Discontinued Starbucks Polar Bear Cookies Are Making Some People Freak Out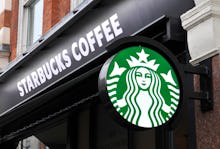 Coffee giant Starbucks is in the midst of yet another Christmas controversy surrounding its seasonal products, and this time, things are getting b-eary ugly.
Last week, photos surfaced online of Starbucks' winter-themed polar bear cookie — a white, bear-shaped cookie with what is apparently a red scarf around its neck. A user who uploaded a shot of the cookies on the photo-sharing site Imgur was quick to point out that the "scarves" made it look like "they've all had their throats slit."
Others were quick to suggest that the apparent attack on polar bears was actually a continuation of the company's campaign against Christmas that began back in November, when Starbucks rolled out their annual red cups for the holiday season, but without the Christmas ornaments or snowmen that have been featured as decorations in the past.
A lot of people were very upset about the apparent lack of Christmas cheer on this year's cup. Critics of the changes claimed that Starbucks was waging a war on Christmas, and apparently, the latest casualties in that war are these polar bear cookies.
The only problem with this whole thing? Starbucks hasn't even sold the polar bear cookies in years, reports BuzzFeed. The photos are old, and the polar bear cookies haven't been sold in stores since 2010.
That fact hasn't stopped ongoing commentary about the polar bears on social media, although not all users are feeling outraged.
Maybe these polar bear cookies are a reminder that life is precious ... or maybe that's just supposed to be a scarf.