Will Ferrell Rips Apart Republican Candidates on 'Saturday Night Live' as George W. Bush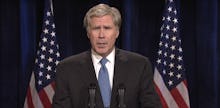 Will Ferrell offered a new option for the Republican National Committee on Saturday Night Live, opening the show as former President George W. Bush and announcing his campaign for the White House in 2016. The comic and actor also took the opportunity as a fellow presidential hopeful to do what many of the candidates have been doing along the campaign trail for some time: dragging the other Republican candidates through the mud. 
"The field of Republicans out there is so messed up, I figured, it makes you miss me, doesn't it?" Ferrell asked as the crowd laughed. He then went on to tear apart several of the leading Republican candidates for their lack of expertise and comparative smarts, among other things.
Here are some of the fake George W. Bush's thoughts on the Republican candidates vying for the White House:
On Dr. Ben Carson: "I got news for him, running the country is not brain surgery. Trust me, I know."
On Carly Fiorina: "I like Carly. She's got guts. She got fired from her job. She got her butt kicked in a Senate race. She's not qualified to be president. In many ways, she reminds me of me. But she isn't me, I am me."
On Ted Cruz and Marco Rubio: "These two guys, the sons of immigrants, hate immigrants. I for one like the Mexican people. They are my amigos ... The way I see it unless your name is Running Bear or Chief Two Rivers, we're all anchor babies, that's something to think about."
On Donald Trump: "Now he says he wants to keep all the Muslims out, yeah, great idea. That's impossible to implement and not what this country is about. In fact, that's like saying, 'let's keep all the leprechauns out.' We tried tiny leprechaun internment camps in the late 1920's, and as you all know, it totally backfired. Leprechaun relations have never recovered since. That's why they are so hard to find. I'm serious, when was the last time you saw a leprechaun? I say no thanks to Donald Trump."
On his brother, Jeb Bush: "You've got to admit it's a pretty good plot twist when I turn out to be the smart one."
Saturday Night Live was hosted by Chris Hemsworth, with a rare appearance from Ferrell who has famously played the former President of the United States before, during his time in the White House and beyond, when John McCain was running against President Obama in the 2008 presidential election. 
Ferrell has also starred as Bush in a 2011 Funny or Die video, where he pretended to report to the world on the death of Osama Bin Laden from a Sizzler's.