Miley Cyrus Drops New Music Video For 'BB Talk,' Takes 'Just Being Miley' to New Extreme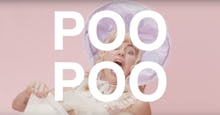 Miley Cyrus released a new music video for "BB Talk," a track from her latest album Miley Cyrus and Her Dead Petz earlier this week, and it's unclear if even Cyrus fans understand what's going on anymore. The 23-year-old pop star provides yet another unique and bizarre "experience" for viewers, donning multiple outfits for infants, dancing erotically in an adult-sized crib and throwing a child's tantrum in front of a 1950's housewife. 
The diapers are one thing, and so is impersonating an infant while singing about dating guys who are over affectionate, but Cyrus certainly pushes the envelope when she begins sucking her toes at one point in the video. 
Cyrus recently released another video for "Dooo It!" from Dead Petz, in which she spews out frothy glitter from her mouth. However, that video pales in comparison to the absurdity and weirdness that is "BB Talk," a video featuring Cyrus in diapers as she sings, "Your baby talk is creeping me out / Fuck me so you stop baby talking."
Below are photos from various scenes in "BB Talk."