Video Captures LA County Sheriff's Deputies Continuing to Fire at Suspect on Ground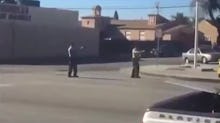 Chilling video captured on Saturday morning in Lynwood, California, shows Los Angeles County Sheriff's deputies shooting dozens of rounds at a man already lying bleeding on the pavement.
According to the Los Angeles Times, the police department said the suspect had fired a handgun into the air and pointed it at the officers involved in the shooting before walking away.
Police responded by opening fire at the man. In the video, the officers continue firing as the suspect is on the ground, attempting to crawl away. Shots are fired for around 25 seconds, and roughly two dozen separate shots can be clearly heard on the tape.
Horrified onlookers shout profanities throughout the graphic video. 
(Editor's note: The following video contains disturbing footage. View with discretion.)
In a statement on Facebook, the sheriff's department confirmed the shooting and that the suspect died at the scene. The agency said that as in the case of all officer-involved shootings, the circumstances that led to the shooting would be investigated.
Police told the LA Times they recovered a loaded .45-caliber pistol from the scene but declined to identify the suspect, while relatives identified the man as 28-year-old Nicholas Robertson.
"In this modern age of cellphone video and instant analysis on the internet, I would ask that we keep in mind that a thorough and comprehensive investigation is detailed and time-intensive," Sheriff Jim McDonnell told the paper in a statement. "It will involve not just one source of information, but numerous sources, potentially including multiple videos, physical evidence and eyewitness accounts."
A deputy with the department told the Guardian, "We are now trained to immediately engage and fire upon anyone ... acting that way" and actively firing a weapon.
As the Guardian noted, the sheriff's department was embroiled in controversy in the late 1980s after a group of deputies known as the Lynwood Vikings were accused of indiscriminately beating black suspects.