Parents of Alleged California Mosque Arsonist Say They Won't Bail Him Out of Jail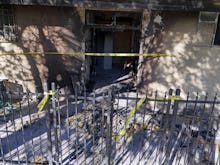 Carl Dial, 23, has been identified as the alleged arsonist behind Friday's attack on the Islamic Society of Coachella Valley, a mosque in Coachella, California. Dial was arrested and charged with "arson, hate crime, and burglary," in connection with the attack, the Riverside County Sheriff's Department announced on Friday.
Dial's bail was set at $150,000, NBC reports, and apparently his parents won't be helping him pay it. "We have no plans to bail him out. He's an adult," Carl Dial's father, John Dial, said in an interview with NBC on Saturday. "We both said right there, we said to him, I hope you like reading books, because you're in it for the long haul. He's a man."
The fire at the Islamic Society of Coachella Valley, which police described as "an intentional act," broke out early Friday afternoon, while "four or five people" were inside praying, CNN reports. No one was injured in the fire, but the building reportedly suffered extensive smoke damage.
In addition to the local police, the FBI will be investigating the alleged hate crime, reports CNN. The incident comes only days after Republican frontrunner Donald Trump proposed a ban on Muslims entering the U.S. and suggested that a large proportion of Muslims feel "great hatred towards Americans."
According to a report by CNN, there have been 63 anti-Muslim incidents at mosques so far in 2015, which is triple the number of similar incidents in 2014.