Protesters With Dildos, Fart Guns Challenge "Fake Mass Shooting" at UT Austin Campus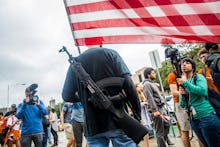 Gun rights activists staging a "mock mass shooting" on the University of Texas, Austin, campus were upstaged on Saturday by a much larger group of counter-protesters "wielding dildos and machines that generated fart sounds," reports the Austin Chronicle.
Two gun rights groups, Come and Take It Texas and DontComply.com, planned an event in which actors wielding cardboard guns and fake blood would demonstrate that an active shooter could appear on campus at any time — and could potentially only be stopped by students carrying concealed weapons. However, they were forced to move the fake mass shooting off campus after university officials warned them non-students or non-staff on campus could be considered trespassing.
The gun rights crowd also staged an armed march outside the university.
The group of counter-protesters arrived after the performance, the Chronicle reported, but came armed with handheld fart guns and dildos.
"This isn't about guns necessarily," UT alum and counter-protest organizer Andrew Dobbs said, according to the Chronicle. "This is about scaring our community. This is about a choice between fear and a little bit of good humor. We are in a scary time right now and lots of scary things are happening, and some people want us to be more afraid."
"We want to help everybody understand that 95% of mass shootings take place in gun-free zones, and these are places where people cannot protect themselves," a spokesman for the two gun groups, Matthew Short, told Mic last week. Responding to criticism that the event was meant to inspire fear, he said, "I can't deal with other peoples' feelings. It's not my place to act according to their feelings. People get upset about the stupidest things."
A sweeping gun-rights bill passed in June 2015 by the Texas state legislature and signed by Republican Gov. Greg Abbott requires all public universities in the state of Texas to allow concealed carry firearms by Aug. 1, 2016 — the 50-year anniversary of a rampage by University of Texas at Austin engineering student and ex-Marine sharpshooter Charles Whitman. On that date in 1966, Whitman killed 16 and wounded 32 after climbing the university's clock tower and opening fire on students walking through campus.
h/t Austin Chronicle