This Transgender Barbershop Is Redefining What a Salon Can Be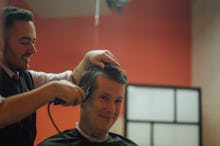 Hidden down a quiet industrial road in Vancouver, where garbage trucks are more common than minivans, is a barbershop like no other.
Marked only by a small wooden sign hung on a nondescript gated door, and accessible only through a winding corridor of empty studio spaces, Big Bro's Barbershop in Vancouver, British Columbia, isn't just for haircuts. A veritable style emporium, it provides warm-towel shaves, tattoos, makeup consultations, nail art, shoe shining and free clothing.
It also offers harm-reduction products, discounted gender-affirming garments and advice and guidance from the shop owner and his staff, who all identify as queer or otherwise.
"If someone is thinking of transitioning or in the process of, we wanted to be there," Jessie Anderson, the founder of Big Bro's Barbershop, told Mic at the shop earlier this month. "We wanted to help them."
Anderson, a 25-year-old transgender man, conceived of the barbershop as a safe space for transgender and queer-identifying people that provides services but also empowers them to work and profit. By building it on his own, a single barbershop is reflecting the complex tangle of needs and challenges faced by trans individuals — and providing solutions.
The challenge of working while trans: Becoming a barber was Anderson's plan B, after getting work in Vancouver as an openly trans person proved difficult. And he's not alone: According to a 2011 nationwide survey by the National Center for Transgender Equality and the National Gay and Lesbian Task Force, 47% of transgender and gender non-conforming individuals said they had been fired, not hired or denied a promotion because of their gender identity.
For a while, Anderson worked retail but found his anxiety kicking in more than ever before. So he moved on to sex-based work, from working at a local sex shop to engaging in sex work as an adult performer.
Because of frequent workplace discrimination, sex work in the trans community is extremely common. A study conducted in 2009 reported high rates of engagement in sex work for transgender women in urban areas; in Los Angeles, a study found that sex work was a primary source of recent income for 50% of its sample of 244 transgender women. 
Starting his own business allowed Anderson to create his own safe work space; it also gave him the opportunity to create a safe space for others. For four years, Anderson worked as a transgender guidance counselor at Little Sister's Book & Art Emporium, a gay-friendly bookstore and resource center that's been in operation since 1983. According to longtime Little Sister employee Ken Boesem, it's where Anderson got his first taste of creating safe communities.
"Even back then, Jessie was asking to sell binders at the store and amp up our trans book section," Boesem told Mic. "You could tell that this was something he cared about."
A barbershop, then, made a lot of sense. For years, Anderson had been choosing to cut his own hair instead of facing the prying questions or suspicions of a barber. "It's hugely common [for trans people]," Anderson told Mic. "Sometimes you get straight-up rejected or sometimes they just don't want to do what you want to do. Salons and barbershops are highly gendered places."
Just this year, there have been several instances of barbershops refusing to serve trans men in their establishments. The same goes for women at salons, which motivated one transgender activist this year to open her own nail salon and "change hearts and minds a nail at a time," as she told Yahoo News. 
Big Bro's resident makeup artist, Obie Farrow, has felt the same exclusion at salons. "There isn't a lot of trans-friendly places here," Farrow told Mic. "In fact, I had been cutting my hair for a long time now. It's just like they either ignore you or say something like, 'Oh, well I'll just make it more feminine.'"
By creating a salon that would never give anyone in his community any grief, Anderson was also building a space where queer people and their experiences were taken seriously — where preferred pronouns were asked at the outset, for example — and their preferences respected.
"We're not helping women look super glamorous or men look like Arnold Schwarzenegger," he said. "We're helping them look the way they want to look." 
Haircuts, tattoos, makeup and more: In May, Anderson launched a GoFundMe campaign, asking for $15,000 in order to rent space downtown. 
As money started rolling in, so did press, including a cover for Vancouver's Westender newspaper that replicated k.d. lang and Cindy Crawford's iconic Vanity Fair cover, with Anderson starring as his icon getting a shave. ("I had had that cover for years, and they wanted to recreate it," he said of the image, which now sits framed in the shop. "It was a dream. The best day of my life.")
Anderson signed a lease on a small, windowless space in Vancouver's East Village and set up shop in August. To make the space more inviting, he invited his friend, tattoo artist Ciara Gunn, 21, to help paint a "signature" wall, which they covered with a mural of the shop's name, written in curly-cue print fit for an upper-arm tat, "Big Bro's Barbershop," a hat tip to Little Sister's.  
Anderson set out to create a one-stop shop, combining haircutting along with services and products like binders (tight shirt-like garments that compress breasts), packers (phallus-like devices that create a realistic bulge) and even makeup consultations. Tattoos were also part of the equation, and Gunn quickly became the resident tattoo artist of the shop. 
"Immediately I knew that this was a place where I could really settle in and be this tattoo artist who puts queer people first," Gunn told Mic.
Soon after, Anderson enlisted more members of the LGBTQIA+ community to provide services, including Farrow, who offers makeup consultations and tips for clients; Jazz, a nail artist, shoeshiner and tailor; Zox, a volunteer art coordinator who brings in a monthly rotation of community art; and Zuzia, a volunteer who helps with the shop's hugely popular clothing drives.
The barbershop also sells free harm-reduction products like clean needles (for hormones) and condoms. In 2016, Anderson hopes to hire a person who has transitioned from male to female so the shop can provide more stylized haircuts for women and provide support for another segment of the community.
During Mic's visit to the shop on a typically rainy Vancouver Saturday in December, friends and customers dribbled in as Anderson's go-to Spotify playlist piped the sounds of FKA Twigs and TLC into the tiny, toasty room. Friends sat on the couch and chatted about their lives and customers waited for a quick buzz, or even a tattoo. 
One of the customers that day was Claire*, 31, who has gone to Anderson for a fresh cut every three weeks since the store opened. "I was just really excited," she told Mic. "I saw the crowdfunding page, and I just thought it was a much-needed, timely place." 
For Jessie Ravenstein, 20, the shop was just another place to get a great tattoo. She had seen Gunn's work on Facebook and booked an appointment without knowing about its customer base. 
"I had no idea that they supported the trans community, and I love that," Ravenstein told Mic. "I'm proud that I'm getting a tattoo here because there's not many places out there when there should be. I love it. It makes me really happy." 
Women like Ravenstein aren't uncommon in the shop, according to Anderson. "I've had women come in just because they're uncomfortable in that highly gendered, froufrou salon," he said. "So coming here, they're just more comfortable." 
A workplace where trans people profit: At the shop, it's all queer individuals providing services and products that recognize the unique needs of a community — meaning these individuals oversee and profit from their own work. 
It's a model a group of transgender Latina women are currently working to replicate in New York City. According to an article by the Ink, the women are motivated by the idea of not having any bosses verbally and physically harassing them and instead creating a place "where they could earn a dignified wage to survive." 
Similarly to Big Bro's, the services they will provide will be aimed at a community that tends to run poor. Poverty rates are "staggering" for transgender Americans, reports have found, with unemployment and homelessness both major factors. Businesses like Big Bro's are crucial for the affordability they can offer — Anderson has made sure to supply all of his gender-affirming garments, from binders to packers, at a reduced rate. 
But what Anderson can provide goes beyond hair or clothing. Before Big Bro's, Anderson said the trans community in Vancouver was like a flash mob, showing up for pop-up events but quickly dispersing; sources Mic spoke to tended to agree. In the tradition of old-school barbershops, Big Bro's has created space for that community to flourish.
"I think there's a real crucible of awesome action happening to physically build a community," Little Sister's employee Ken Boesem said. "One of the important elements is having some sort of brick-and-mortar place where people can gather, and that's what Jessie has provided." 
"It's not like I am literally the only hairdresser in town," Anderson said, adding that the shop has provided assistance to upwards of 300 people in Vancouver so far. "These people need to see another trans person in existence, someone they can talk their feelings out with." 
As he sweeps up after clients and sorts through drawers of donated clothing, Anderson's pride is apparent. Although the room the shop occupies is windowless, you can't really hear the doorbell when the heat kicks on and Anderson desperately needs another dustpan, the shop is everything he's ever dreamed of. 
"I'm really happy with what we've done," he said. "I'm able to give people the opportunity to get paid for their work, and we're giving people a place that makes them feel safe. Sure, things could be better, but right now I'm just so proud."
* Last name has been withheld to allow subject to speak freely on private matters.