Marco Rubio Promises to Reverse Supreme Court Decision Legalizing Gay Marriage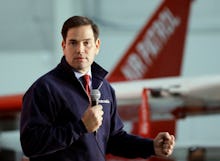 As of 2015, Pew Research Center polling demonstrates 57% of Americans are now in favor of same-sex marriage, while just 39% remain opposed — and a Supreme Court decision in June legalized same-sex marriage nationwide.
But GOP presidential candidate and Florida Sen. Marco Rubio doesn't think the battle is quite over yet.
In a Sunday interview on NBC News' Meet the Press, Rubio told host Chuck Todd he believed social conservatives can still win this one.
"It is the current law. I don't believe any case law is settled law," Rubio said on the program, according to the Hill. "Any future Supreme Court can change it."
"And ultimately, I will appoint Supreme Court justices that will interpret the Constitution as originally constructed," he continued.
"I don't think the current Constitution gives the federal government the power to regulate marriage," Rubio added. "What is wrong is that the Supreme Court has found this hidden constitutional right that 200 years of jurisprudence had not discovered and basically overturned the will of the voters in Florida, where over 60 percent passed a constitutional amendment that defined marriage in the state constitution as the union of one man and one woman."
In recent weeks, Rubio has turned his focus to talking about the need to roll back the Supreme Court decision, as well as protections for trans people, as he seeks to gain ground on his fellow candidates. Recent polls show Rubio staying double digits behind national front-runner Donald Trump and Texas Sen. Ted Cruz in the important early primary state of Iowa, hovering at around 13% support among likely GOP voters.
Rubio isn't alone in wanting to reverse the Supreme Court's decision. Most of the Republican field has announced their opposition to the decision, though Trump has left same-sex marriage rights mostly off his ever-increasing list of targets.
"You have to go with it. The decision's been made, and that is the law of the land," Trump told MSNBC in September.
It is likely too late for Republicans to successfully fight the ruling. Earlier this year, proposed constitutional amendment allowing states to refuse issuing or recognizing same-sex marriage permits earned widespread skepticism from conservatives who believed it was unlikely to pass. Similarly, it seems unlikely that the court will turn back time to side with social conservatives.
"What the Constitution is understood to encompass has changed over time in ways that are dramatic, sweeping, and often permanent," New York University School of Law professor Barry Friedman writes The Will of the People, according to the Atlantic. "Although these changes are reflected in judicial decisions, they are rarely initiated there."
Finally, by definition, the SCOTUS' prior ruling made same-sex marriage a protected constitutional right. As the National Constitution Center's Lyle Denniston points out, opposition to same-sex marriage is now largely a political question rather than a judicial one.