There Will be a Full Moon on Christmas for the First Time Since 1977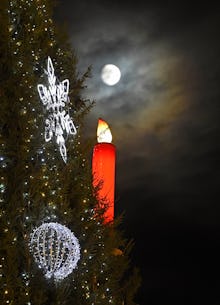 This Christmas probably won't be a white one, but it will definitely be bright. A NASA spokesperson told ABC news on Friday that there will be a full moon on Christmas this year for the first time since 1977. It will be the last full moon of the year, and will be most visible at 6:11 a.m. Eastern, ABC reports, so plan festivities accordingly.
The next time there's a full moon on Christmas won't be until 2034. Hopefully, there will be clear skies this year because we aren't going to have the opportunity to see another Christmas full moon for more than a decade.
The upcoming full moon isn't the only exciting celestial event to happen this month: The Geminid Meteor Shower will be visible on Sunday and Monday, during which time about 50 shooting stars will be visible every hour, the Pittsburgh Post-Gazette reports.
With all this exciting stuff happening in the sky, it's enough to make some people believe in Christmas magic again.