Here's the Ultimate GIF Guide for Everyone in Your Family This Holiday Season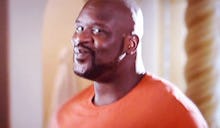 Considering Sunday was just about the warmest Dec. 13 in history in New York, it may not have hit you yet that the holidays are upon us. But the fact remains that Christmas is in seven days, and Hanukkah has come and gone, my friend. If you haven't yet finished your holiday shopping, you're probably scrambling to round out that list and make sure everyone is covered.
We're reaching that window where shipping that's fast enough costs more than the present itself, and the only people you haven't bought for yet aren't people you're willing to spend that kind of money on. So this holiday, consider doing something a little different. Something bold, forward-thinking, thoroughly millennial. 
Consider giving your loved ones and acquaintances... GIFs. Yes, GIFs, those looping animated images that the internet loves so much.
Some reasons GIFs are the perfect holiday presents: They don't take up a lot of room in your travel bag; by their very nature, they last forever; it's probably the only way you'll ever be able to give anyone Beyoncé. Now that you're thoroughly convinced, here are a few suggestions for GIFs and the people best suited to receive them: 
Your mother
Your Christmas-obsessed dad
Your partner
Your sibling's partner, nervously attending their first big family event
Your churchgoing grandmother
Your sassy teen cousin
Your friend who just got engaged and won't stop bragging about it
The sibling who's recently had their feminist awakening
The uncle who wants to know when you're going to pick a "real" major
That same uncle, who loves fishing and thinks women aren't fit for elected office because periods
Your favorite cousin
Your grandparents, who just discovered the internet
Your family pet
Your brother, who just learned how to drive 
The whole family, when politics comes up 
Your hometown crush
The aunt who always asks you when you're getting married 
Yourself, as a reward for getting through the holidays
The whole family, when it's time to say goodbye
Read all of Mic's year-in-review coverage here.