'Adele Live in New York City': Date, Channel, Preview and How to Watch Radio City Special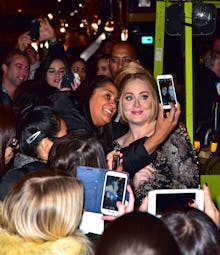 This is maybe the next best thing to Adele announcing U.S. stops on her 25 tour: Fans can see Adele Live in New York City Monday — if they tune into NBC at 10 p.m. Eastern — when her one-and-a-half-hour special airs. The 10-time Grammy winner recorded the concert (her first in four years) on Nov. 17 at Radio City Music Hall "to celebrate the release of her new album," according to NBC, overcoming her famous reticence about singing on stage to deliver a not-to-be-missed showcase of her record-shattering 25.
"I'm so nervous, I was trying to find the nearest exit," said the singer during her performance, according to USAToday. But she's been "dying to do a f--king show," according to the New York Daily News. Viewers have a lot to look forward to; here's the full rundown on the Radio City special:
How to watch: Fans who don't have access to a TV can stream the special on NBC starting at 10 p.m. 
What she'll sing: All of 25 is on the menu, along with a few other favorites. The Daily News reports that "Hello," "Hometown Glory," "Chasing Pavements," "Set Fire to the Rain," "Daydreamer," "Rolling in the Deep," "Someone like You," "One and Only," "Water Under the Bridge," "When We Were Young," "All I Ask" and "Skyfall" are all on the song list; USA Today adds "Million Years Ago" to the tally. 
Who to look out for: Jennifer Lawrence, Bradley Cooper, Irina Shayk, Daniel Day-Lewis, Tina Fey, Amy Poehler and Donald Trump were all in attendance, as well as comedian and Tonight Show host Jimmy Fallon, who introduced the singer, according to the Daily News. Otherwise, the audience was selected at random in a sweepstakes held on Adele's website.
Can't wait till Monday? Here's a preview of the Adele Radio City special.