Kanye West is Almost Finished with New Album 'Swish' — Here's the Latest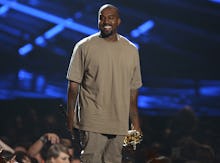 2015 has already been a big year for Kanye West — he welcomed his second child with wife Kim Kardashian, launched a shoe collaboration with Adidas and made-up with Taylor Swift. Now he's got one more potential notch on his belt this year: Kanye is reportedly close to finishing his upcoming seventh album, to be titled Swish. There's still no official release date set, but if Yeezy's tweets are any indication, it could be arriving soon.
"I'm finished my album and my next collection," West tweeted out on Sunday. 
West had originally announced that his next album, a follow-up to 2013's Yeezus, would be titled So Help Me God but revealed in May that the album would instead be titled Swish, reports Pitchfork.com.
Back in February West revealed his new song, "Wolves," rumored to be the first single off his new album, Rolling Stone reported. The song features a collaboration with Sia and rapper Vic Mensa. West is also rumored to be recording some material about his new son, Saint, for Swish. A full track list for Swish has yet to be released.