Meet Clementine Desseaux, the Plus-Size Model Embraced by Christian Louboutin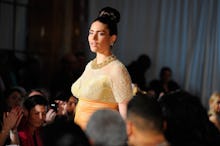 In a move towards inclusiveness in fashion, shoe and makeup brand Christian Louboutin shared a video last week on its official Facebook page of Clementine Desseaux, a French plus-size model, wearing Louboutin's newest lipstick. 
While Desseaux has not been officially signed to represent Louboutin, her presence on the luxury brand's page indicates that it may be one step closer towards including plus size models in future ad campaigns.  
"The beauty norm is changing and differences that used to be weaknesses are now turning into strengths," Desseaux told the U.K.'s Daily Mail, speaking about the Louboutin campaign. "Being curvy and freckly was never easy back when I was in France. Now beauty is changing and brands are putting girls that are different in the spotlight."
Desseaux's being embraced by Louboutin comes in the midst of an ongoing conversation surrounding the inclusion of plus-size models in mainstream fashion. In September, as part of Lane Bryant's #PlusIsEqual campaign, plus size models shut down Times Square during New York Fashion Week to call attention to the lack of body diversity in traditional runway shows.
"The plus-size market is booming, and the selection offered to curvy women has grown immensely," Desseaux told Refinery29 in a 2014 interview. "But, we still need more unique, exclusive, trendy pieces and collections."
Dec. 17, 2015, 1:23 p.m. Eastern: This story has been updated to reflect clarifications from Louboutin. An earlier version of this story reported that Desseaux had been officially signed to represent Louboutin. She is not officially representing the brand. A spokesperson for Louboutin told Refinery29 "LouboutinWorld loved the clip and reposted."