The First Trailer For 'Independence Day: Resurgence' is Out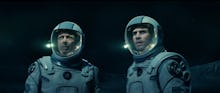 The first trailer for 20th Century Fox's Independence Day: Resurgence, sequel to the 1996 science fiction film Independence Day, has dropped.
The Roland Emmerich-directed film stars Jeff Goldblum, Bill Pullman, Vivica A. Fox, Jesse Usher and Maika Monroe — but if original sign Will Smith's going rate has suddenly decreased enough to make his appearance in the film feasible, there's no sign of it in the trailer.
It also stars Liam Hemsworth, because every epic action movie apparently needs at least one Hemsworth.
Independence Day: Resurgence takes place some time well after the events of the original movie, at a time when humans have rebuilt civilization using alien technology scrapped during the invasion of the first film. At first glance, it looks like the movie is going to be a grittier departure from the original's more comedic tone.
The film will be released on June 26, 2016 — eight days before the actual Independence Day on July 4.
h/t The Verge
Correction: Dec. 14, 2015