Taylor Swift Releases Trailer for '1989' Tour Documentary: Release Date and How to Watch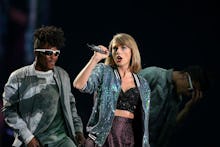 Dec. 13 is Taylor Swift's 26th birthday, which means presents for her as well as a present for her fans: T. Swift tweeted a preview of her forthcoming documentary, The 1989 World Tour Live, by Swedish director Jonas Akerlund. The documentary will stream exclusively on Apple Music starting Dec. 20 and will, according to Billboard, show fans "never-before-seen footage from backstage and tour rehearsals." 
"Getting ready for this, I wondered about a lot of things," the singer says in the video clip. "I wondered what it would be like to perform for 70,000 people. I wondered what it would look like if they were all lit up and just dancing around like no one was watching them. I wondered what would happen if I invited the most amazing artists in the world to come out with me and perform on my stage. Would they do it?"
Yes, Tay Tay, they absolutely would. Mick Jagger, Selena Gomez, Fetty Wap, Miranda Lambert, Alanis Morisette, Wiz Khalifa, Mary J. Blige, John Legend, Beck, St. Vincent and Justin Timberlake make appearances on The 1989 World Tour Live preview. The doc is an all-access pass on Swift's supertour, which made almost $200 million off tickets and took the singing sensation to four continents between its May 5 kickoff in Tokyo and Dec. 11 wrap in Melbourne, according to Access Hollywood. 
The preview shows towering plumes of pastel smoke, flashing, multi-colored lights, twirling umbrellas with glowing neon trim, scores of sparkly, scantily clad pop stars parading across huge stages — hundreds of thousands of people, all lit up and dancing around for Taylor's fans to watch.