Brand-New Poll Shows Bernie Sanders Within Striking Distance of Hillary Clinton in Iowa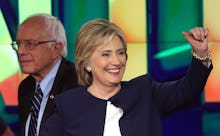 Former Secretary of State Hillary Clinton enjoys a clear but far from insurmountable lead in Iowa over Democratic primary challenger Sen. Bernie Sanders (I-Vt.), according to a brand-new Bloomberg Politics/Des Moines Register poll.
The poll showed Clinton with 48% support ahead of Iowa's Feb. 1 caucus, with Sanders at 39% and former Maryland Gov. Martin O'Malley at 4%. That's little changed from an October poll of likely Democratic caucusgoers, in which Bloomberg and the Register found Clinton at 48%, Sanders at 41% and O'Malley at 2%.
Behind the numbers: While the results suggest Clinton is holding her own in the kickoff caucus state, the latest poll shows her with a smaller lead over Sanders than other recent Hawkeye State surveys. A Fox News poll released Sunday gave Clinton a 50% to 36% lead, and last week also saw Clinton post leads of 22 percentage points and 18 percentage points in polls from Monmouth and CNN, respectively.
The Bloomberg/Register survey, conducted by pollster Ann Selzer, is regarded as among the most accurate in the state. Statistics guru Nate Silver's FiveThirtyEight awarded Selzer's firm a rare A+ rating in its ranking of polling firms last year.
Sanders' opportunity: The new Bloomberg poll shows likely caucusgoers prefer Clinton to Sanders on several crucial measures, including experience, foreign policy and national security, handling the economy and working with Congress. But Sanders boasts pronounced strengths of his own: By 57% to 29%, Iowa Democrats say he'd do the most to combat Wall Street power, and Sanders enjoys a 56% to 36% lead over Clinton on defending the middle class. 
Iowans also see Sanders as more honest and trustworthy, and they regard the democratic socialist as the candidate who most cares about people like themselves.
To parlay those strengths into a come-from-behind victory, Sanders will want to see a surge in turnout from younger people, first-time caucusgoers and self-described liberals. By 49% to 40%, Sanders leads Clinton among those who say they'll be caucusing for the first time, and he takes 48% of liberals to Clinton's 44%. But Sanders' clearest advantage is among those younger than 45, who back him over Clinton 58% to 31%. 
"Bernie Sanders has proven to be a worthy adversary," pollster Selzer said, per Bloomberg. "He's attracting people who, as a coalition, together, can be a force to be reckoned with, if he can turn them out. They're notoriously difficult."