A Woman Who Tried to Perform Her Own Abortion Was Just Charged With Attempted Murder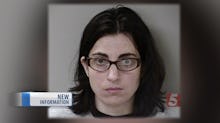 Abortion is one of the safest medical procedures for women in the United States, according to the Guttmacher Institute. But as one Tennessee woman hospitalized after attempting to perform her own abortion found firsthand, the procedure is only safe when performed under proper medical conditions.
Instead of viewing 31-year-old Anna Yocca's act as one of desperation, however, authorities treated it like a criminal act: Yocca was charged with first-degree attempted murder and is being held at an adult detention center on $200,000 bond. 
In September, Yocca reportedly used a coat hanger to perform an abortion in her own bathtub six months into her pregnancy. After she lost a concerning amount of blood, her boyfriend took her to a nearby hospital. While doctors were able to save the child's life, local outlets report, the child suffered serious health consequences. 
The reality of self-induced abortion. Yocca's personal reasons for attempting an abortion late in her second trimester — which is illegal no matter the method in Tennessee — have not been elaborated. But the horrifying reality is she's hardly the only woman to attempt to perform her own abortion. At least 100,000 and as many as 240,000 Texas women, for example, may have attempted to self-induce an abortion, according to a recent study. 
But criminalizing such acts does little to address the "societal and public health issues" that actually spur them, according to one Guttmacher analysis. These underlying issues are frequently tied to issues beyond individual desires or flaws. For instance poverty — specifically, the fact that low-income women are uniquely constrained from obtaining abortions — often plays a significant role in this choice.
"The impact of restrictions on abortion services falls hardest upon low-income women," Andrea Rowan, author of the Guttmacher analysis, said in September. "Some women want to terminate their pregnancies but live in hostile geographic areas and have limited resources and support. They are left with no practical options other than to self-induce, which in turn may put them at risk of prosecution."
Decreased abortion access. Safe abortions are hardly easy for women of any socioeconomic status to obtain in Tennessee. As of 2014, only seven abortion clinics were open in the entire state of Tennessee, according to a WREG report. This summer, further restrictions went into effect: On July 1, a new law requiring a 48-hour waiting period before an abortion was performed took effect in Tennessee, as did another measure requiring abortion facilities that perform more than 50 abortions a year to be held to the same standards as other outpatient surgical facilities, according to the Associated Press.
Plenty of states fare even worse than Tennessee in terms of abortion access. Lawmakers across the country have passed a record-breaking 231 abortion restriction laws in the last four years. In February 2015, more than 100 anti-abortion bills had already been introduced in 28 state legislatures.
Abortion doesn't need to be life-threatening. Despite the increased criminalization of the act, when performed under "proper medical conditions," fewer than 1% of all American patients who have an abortion experience a serious complication, and the risk of death associated with the procedure is actually 10 times lower than that associated with childbirth, according to the Guttmacher Institute. What's more, studies also show that access to safe abortion can help lower rates of the procedure. 
Rather than criminalize individuals who self-perform abortions, therefore, data indicates the safer option may be to increase access to safe, medical abortions for all women. As president of Planned Parenthood Cecile Richards stated in November, "Most people thought we were well past the days of women taking matters into their own hands, but laws that make it impossible to get safe and legal abortion are taking us backwards."
h/t Raw Story
Correction: Dec. 14, 2015