Kim Kardashian and Kanye West Christmas Sweaters Exist — Here Are Prices and Where to Buy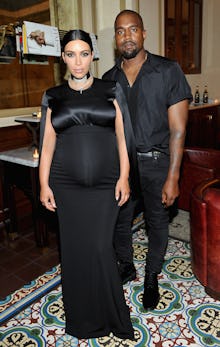 Epic ugly Christmas sweaters mocking Kim Kardashian's Paper magazine cover and Kanye West's ego are here to make us regret impulsively purchasing that Drake "Hotline Bling" sweater for the holiday party. Fresh Brewed Tees, a T-shirt company that makes pop-culture apparel, is now selling holiday sweaters dedicated to Mr. and Mrs. West for $49.99 a pop. 
The Kim sweater depicts her controversial 2014 Paper magazine cover — but instead of champagne, she's popping a carton of eggnog that miraculously lands in a glass on her rear end. The Kanye sweater is a portrait of Ye donning a santa hat with the slogan "Come all YE faithful" because, well, it doesn't get more Kanye West than that. 
In November, T-shirt company The Yetee sold out of a holiday sweater mocking Drake's viral dance moves in his "Hotline Bling" music video. The black sweater featured the rapper breaking it down in a turtleneck just like he did in the viral music video that dropped in October. People have been rocking the sweater on social media since its release, so we can only assume pictures of couples in their Kardashian and West sweaters will soon infiltrate social media as well.