Grimes 'Art Angels': Lyrics, Streaming and Download Options for New Album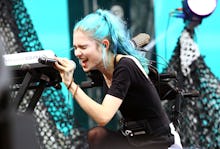 Art Angels, the fourth studio album from Vancouver-bred soloist Claire "Grimes" Boucher, saw its worldwide digital debut on Nov. 6, and the record's physical release happened on Friday. As is typical of Grimes' sound, all 14 of the record's tracks offer up sprawling sonic landscapes that melt into dream pop, spill over into synth and electronica and delve into abstractions in a genre called "art pop." The 27-year-old musician's record is available for streaming and download via iTunes and Spotify.
Grimes' latest effort is the follow-up to 2012's Visions and features a cameo from fellow art rocker and soul musician Janelle Monáe. Grimes, a Juno Award-winning artist, will embark on a worldwide tour beginning in the new year that starts Jan. 23 in Seoul, South Korea, and continues with tour dates in Japan, Singapore, New Zealand and Australia before the recording artist hits Europe.
Ahead of Art Angels' release, Grimes shared the album art to Instagram, which is on brand for the experimentalist:
Lyrics: A fair number of music publications spilled ink when, in October, Grimes released a video for one of the album's standout tracks, "Flesh Without Blood." The cut features the artist done up in a Victorian era-style dress, among other alter egos including an angel of death-inspired character, and stages her own bloody death. "Remember when we used to say 'I love you'/ Almost every day," Grimes sings on the track. "I saw the light in you/ Going out as I closed our window/ You never liked me anyway."
On "California," a more bubbly track that recalls the catchiness of earlier work such as "Genesis," the artist keeps the darkness rolling. "The things they see in me, I cannot see myself," she sings. "When you get bored of me, I'll be back on the shelf/ And when the ocean rises up above the ground/ Baby I'll drown in..."
Art Angels' digital release in November gave the record a fair amount of time for critics to consider its inclusion on year-end lists, and the album blew reviewers out of the water. Thump, a property of Vice dedicated to electronic music, called "Butterfly" the No. 1 song of 2015. Music blog Gorilla vs. Bear ranked Art Angels as 2015's best album. Continuing the parade of praise for Art Angels, NME also named the record album of the year. 
For a full list of tour dates, fans can head here. Fans in the U.S. will have to wait for more tour dates to be announced. In the meantime, stream the album critics are smitten with:
Dec. 14, 2015, 10:04 a.m. Eastern: This article has been updated.