'Independence Day: Resurgence': Release Date, Cast, Trailer and Everything We Know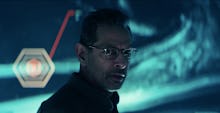 After its predecessor first hit theaters nearly 20 years ago, the trailer for the sci-fi sequel Independence Day: Resurgence made its premiere Sunday. The film is slated to hit theaters a little before actual Independence Day on June 24. Like the title implies, the aliens are back for round two, two decades after their first attack, according to its website. Since then, the countries on earth have united to rebuild using salvaged alien technology from the first go and create a worldwide defense program , CNET reported. 
Independence Day: Resurgence cast: Liam Hemsworth replaces Will Smith as the hero of the alien action flick, but among those returning are Bill Pullman, Vivica A. Fox, Judd Hirsch and Jeff Goldblum, whose character David Levinson will most likely be working alongside Hemsworth's character Jake Morrison to save the world, according to IMDb. New actors joining the Independence Day crew will be Maika Monroe, Joey King, William Fichtner and Charlotte Gainsbourg. 
Roland Emmerich, who directed the first Independence Day, directed the sequel as well. Carter Blanchard wrote the screenplay. Dean Devlin, who produced the first movie, was also on board.
The first Independence Day: The first Independence Day was a hit, and brought in over $50 million in its opening weekend, according to IMDb. At the time, it became the second biggest blockbuster ever, second only to Jurassic Park, Forbes reported.
20th Century Fox launched the website Warof1996.com to fictionally explain what has occurred in the world since the first movie. Smith's character, Captain Steven Hiller, has supposedly died in 2007 (Smith reportedly wasn't up for the sequel).
The trailer for Independence Day: Resurgence is below: