This Women's Festival Banned Transgender Women and Also Any Discussion of the Ban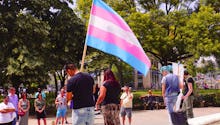 The Seven Sisters Festival, a three-day women's festival in Australia, took a stance to bar pre-operative or non-operative transgender women from attending their festival in March 2016. 
Seven Sisters Festival's website says SSF creates a space for women to "enjoy" themselves, "heal" and "recharge [their] batteries," by providing an "exclusive, immersive and transformative experience to support your journey and development as a woman." However, the claim of exclusivity was stretched a little too far for some attendees this weekend after an inquiry on their Facebook page led to a small uproar. 
In a post that has since been deleted, a woman named Caitlin Therese Sullivan asked whether the festival was trans inclusive. 
The festival responded by saying that having individuals around who are "physically men" — meaning transgender women who did not undergo gender affirming surgery — would "break the trust" of many of the women there. The response has been taken down along with the original post. 
Festival organizers have since made a statement on the interaction, calling the back-and-forth on the festival Facebook a "provocative transgender campaign." 
The statement says the festival has always had a policy of "inclusion" and that organizers will engage in a dialogue with members of the transgender community, as well as distribute to former festival attendees an anonymous survey regarding trans attendance. 
Australian news outlet ABC posted a screenshot of an email obtained from a potential festival attendee, Kylee, who inquired whether her currently transitioning partner could attend the weekend festival. 
"We've been trying to become more involved in women's circles so that she can feel more comfortable, but at the moment she's retreated a bit from life, so I thought a really beautiful camping festival with all women would be a really safe place for her to feel accepted," Kylee told ABC.
Festival attendees have already begun to respond to the Seven Sisters Facebook post. Some are wondering why they have been censored, some have stood up for the trans community and some are demanding a refund, claiming they were misled by SSF's claims of inclusivity.
Similar debates over trans inclusion at festivals have happened in the United States: Most notably, the Michigan Womyn's Music Festival, which held its final festival this year, notoriously banned trans women from attending. 
Correction: Dec. 15, 2015
Get the five stories that will challenge you to rethink the world by signing up for MicCheck Daily.