Chance the Rapper Becomes the First Unsigned Artist to Perform on 'Saturday Night Live'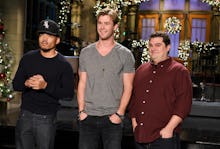 Chance the Rapper made history on Saturday Night Live over the weekend, becoming the first unsigned, independent artist to perform on the program, according to Consequence of Sound. 
He used the stage to debut a new track, the soul-inspired "Somewhere in Paradise" featuring Jeremih and R. Kelly, who wasn't there for the show. He and the band also played a slower, more sultry version of "Sunday Candy" off Donnie Trumpet and the Social Experiment's Surf, rocking that prized stage that's long been reserved for music's highest profile stars.
While unsigned, it's not like the Chicago rapper is unknown. Chance the Rapper has made a point of staying independent ever since his breakout mixtape Acid Rap launched him into the limelight in 2013. A slew of major hip-hop labels have approached him, but he turned them all down.
"I've met with every A&R, VP of A&R, president of the labels, CEOs," Chance the Rapper told Fader in January. "I've had a lot of advice from people [in the industry] who wouldn't give me that same advice today. They're almost like, 'Keep going. You're in uncharted territory, and you're helping to shed light on what [the future of the business] will look like, and we're all curious.'"
Those choices have given Chance the Rapper a level of freedom most major label artists would likely envy. His music can cross genres liberally, and he has no obligations to meet release dates or craft singles for radio. 
"I can do whatever I want," he told Billboard October 2014. "I can do whatever videos I want, I can play whatever shows I want, I can release when I want, talk how I want, freely about any subject." That includes recording jazz-forward hip-hop albums like Surf, filled with singles like the highly theatrical "Sunday Candy."
On "Somewhere in Paradise," he's decided to talk about his hometown of Chicago. "They say I'm saving my city/ They say I'm staying for good/ They screaming 'Chano for mayor!'/ I'm thinking, 'Maybe I should,'" Chance sings. The lines could not be more pressing, considering the Chicago protests that called for Mayor Rahm Emanuel's resignation last week. Chance the Rapper, who earned an "outstanding youth of the year" award from the city last year, wouldn't be a bad choice of replacement. 
Listen to the studio version of the track, released Sunday, below.
Source: Soundcloud
Chance the Rapper is currently teasing his third mixtape, which will likely include "Angels," recently debuted on The Late Show With Stephen Colbert. It's likely the highest profile rollout an independent artist has ever enjoyed.