What College Apparel Would Look Like If Universities Were Named for Black Leaders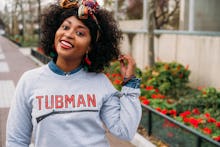 Wearing a college sweater is a symbol of pride. It's a way both current students and alumni can show their affinity to their beloved university.
So one company has taken it upon itself to create college-style sweatshirts bearing the names of black leaders and influencers throughout history. It's a combination of appreciation for black history and education — and the names that don't always get appreciated at big-time universities.
Philadelphia Printworks, which creates screen-printed clothing aimed at "activism and inclusion," calls the collection School of Thought. According to the North Philadelphia-based company's site, School of Thought "imagines a different world where colleges and institutions have been established based on the philosophies of Marcus Garvey, Audre Lorde, Ida B. Wells, Harriet Tubman, George Washington Carver and James Baldwin."
Check 'em out:
Each historical figure is transformed into a fake college name, like "Garvey Industrial Institute," or features an accompanying logo, such as a rifle, underneath "Tubman," honoring each name according to a longstanding college-naming tradition. 
Harvard, for instance, is named after its first benefactor, John Harvard of Charlestown, Massachusetts. Dartmouth College is named after William Legge, the Second Earl of Dartmouth, who helped support the college's founding back in the late 1700s.
"This collection was inspired by the collegiate style that has come to represent legacy," Maryam Pugh, owner and co-founder of Philadelphia Printworks, told Mic. "We wanted to apply those feelings to the rich history of African American tradition we have here in the states.  Institutions that may not currently exist in physical form, but, exist within the minds and hearts of the African American community."
But those names have been a source of contention at American colleges and universities, as students protest the lack of black historic leaders honored by their universities, as well as the presence of white leaders' names with complicated racist histories. 
In November, Princeton University agreed to reexamine the legacy of former university president Woodrow Wilson after student protests highlighted his racist past. Wilson's name on a residential building, protesters argued, symbolized his efforts to only admit white, Christian men, according to the Washington Post. In February, students at the University of North Carolina protested the name of Saunders Hall, named after a Confederate leader and Ku Klux Klan leader, according to Bloomberg. 
Philadelphia Printworks' sweaters offer a real-life look at what some of that representation would look like in the collegiate world. The company partnered with the designer Donte Neal, who goes by the name Mars Five. Neal said that he always appreciated the traditional "varsity" aesthetic so classic to American colleges.
"I've always had an appreciation for the prestige in collegiate design and typography," Neal told Mic. "That appreciation very often informs my fashion choices, design style and educational aspirations/interests."
Selecting the leaders that would inspire the imaginary schools wasn't easy, however. 
"Picking the school names was the hardest part of the process for me. My choices were inspired by the concept of creating a hypothetical but educational curriculum based on the legacies of the people we chose," said Neal.
"We knew we wanted a mixture of disciplines," added Pugh. "So we added Carver for biology and Baldwin for literature. We began to see the schools in our minds, imagining the types of students that would go to each." 
"I believe we all apply and belong to our own particular schools of thought," Neal told Colorlines. "Though sometimes multiple, conflicting or harmonious, these theoretical institutions are where we take responsibility for our own educations."
Those institutions are where people develop their values; social, political, economic and moral, he told Colorlines. "My goal was to give these [imagined] schools a manifested and wearable pride," he said.
Dec. 15, 2015, 7:46 a.m.: This post has been updated with comments from Donte Neal and Maryam Pugh.
h/t Colorlines