Who Is B.K.S. Iyengar? Google Doodle Honors Famed Yoga Guru on 97th Birthday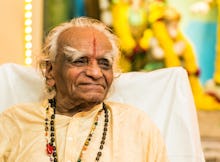 Monday's Google Doodle honors legendary yogi B.K.S. Iyengar, who created the widely practiced Iyengar form of yoga, on what would be his 97th birthday.
"Iyengar is acknowledged as yoga's most proficient and knowledgeable practitioner — an inspiration to countless students and yoga practitioners around the globe," it says on the website for Iyengar Yoga in New York City. Iyengar was a leading force in bringing the practice of yoga to the West, according to Google, and taught the spiritual exercise across the globe for more than 70 years.
The life and death of a yogi: The yoga guru died at age 95 in 2014 from kidney problems, BBC reported, after having taught yoga in more than 70 countries. He is the author of Light on Yoga and several other widely referenced yoga books, which were translated into 13 languages. 
"My body is my temple and asanas are my prayers," Iyengar often said, according to his obituary in the Guardian. He was born in southern India and had 12 siblings, according to the Guardian, and was introduced to yoga by his brother-in-law as a teenager. 
Rise to fame: Iyengar became an international success in 1952 when the famous American-born Swiss violinist Yehudi Menuhin requested that Iyengar teach him yoga during his visit to India, according to the Guardian. Menuhin eventually credited Iyengar's yoga teachings to improving his skills as a musician and gifted him a watch in 1954 inscribed with the note "To my best violin teacher, BKS Iyengar," the Guardian reported. That's when Iyengar began to visit the West to spread the teachings of yoga.
There are now hundreds of Iyengar yoga studios. "Before peace between the nations we have to find peace inside that small nation which is our own being," he used to tell his students.