Kanye's Oxford Lecture Video Speech Is More Proof That Yeezy Gives the Greatest Speeches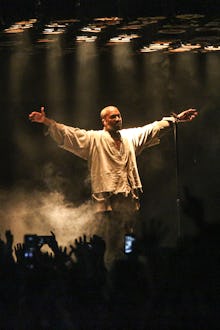 Footage from Kanye West's full 40-minute speech at Oxford University has finally surfaced online. Back in March, Yeezy spoke in front of several hundred members of the Oxford Guild Society, covering topics from art to time and racism. Only highlights and a transcript were available up until Dec. 7, when the Guild was finally allowed to release the full speech, according to the Guild's website.
The Guild called West's appearance "an unprecedented, history-making opportunity." Kanye is no stranger to speeches, having multiple Grammys under his belt. Like true West-speech fashion, this one was full of his special and creative insight. 
West began by talking about his education, having earned a scholarship to the American Academy of Art. He moved onto how he views his creative endeavors similar to how he would play a sport. "I approach creativity like a sport, where if I have a drawing I react just like a jock: 'Look at that fucking drawing right there, yeah!'"
He praised Elon Musk, Nicki Minaj and Steve Jobs, adding though that Jobs was "kinda selfish" for not sharing his ideas, which are considered free for all by West.  
On his infamous ego, West said, "One of my biggest problems, one of my biggest Achilles' heels has been my ego. And if I, Kanye West, the very person, can remove my ego, I think there's hope for everyone." 
The full video of West's speech is below:
West also gave an impressive speech for the Michael Jackson Video Vanguard Award in August.