Star Wars Condoms Are Here So You Can Finally Wrap Your Lil' Lightsaber Up in Style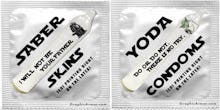 Sexually active Star Wars fanatics (which, for the purposes of this article, we'll assume do exist) will be delighted to learn that a new line of themed condoms is here to both protect them from STIs and pregnancy and give them a dose of movie nostalgia, all at the same time. 
Brought to you by condom company Graphic Armor, the festive prophylactics come in two available styles, Saber Skins or Yoda Condoms, depending on whether you want your peen to be stamped with an image of Darth Vader or Yoda. They also have the Star Wars-y sayings "I will not be your father" and "Do or do not. There is no try," respectively, printed directly on them.
Amused by these quirky little condoms, we are!
"Saber Skins, Star Wars condoms are FDA approved, ultra thin, ultra safe and guaranteed to keep you from crossing over to the Dark Side," the description for the Saber Skin variety on Graphic Armor's website says. 
"Saber Skin condoms feature Jedi-printing with non-toxic inks right on the latex. The Force is strong with these condoms ensuring that you will not be anyone's father!"
Graphic Armor told Mic that the line of condoms is emblematic of their overall mission as a company.
"Take a product riddled with stigma and marry it with pop culture icons, familiar images and a splash of humor, and we believe you have a recipe to change perceptions, attitudes and just maybe, behavior," the company told Mic in an email. "We are excited to give people everywhere a reason to look at an old product in a new way, and in the process forever change the bad rap of this very important and necessary little product."
Science has already debunked the argument that condoms make sex less pleasurable. But if that's not enough, perhaps Saber Skins can encourage men to finally fall in love with latex once and for all.
Lest you think that this is the first time sex and Star Wars have crossed paths, Bustle has rounded up a list of other SW-branded sex products, including a glowing lightsaber dildo and a colorful C-3PO G-spot vibrator. It's also not the first time Star Wars branding has penetrated (hehe) the prophylactic market: Back in 2012, the Italian graphic designer Benedetto Papi released a line of condoms featuring characters like Boba Fett and Darth Vader on the wrappers. 
"But what about the ink fading and rubbing off into my V or A or onto my P?" you might wonder. According to the Graphic Armor website, you need not worry.
"The images on all Graphic Armor printed condoms are securely applied to the inner layer of the condom and are designed to stay on during normal condom use," the site's FAQ section assures inquiring users. "The ink used is non-toxic and safe and the printing process does not in any way compromise the integrity or safety of the condom."
Well, then. Order a case or two of them, we will!
h/t Bustle