'This Thing Called Life': Lyrics, Streaming and Download Options for New Album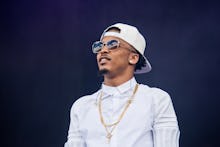 On Friday, New Orleans native and 23-year-old recording artist August Alsina released his sophomore album, This Thing Called Life. In his yet brief career, the R&B artist, who is signed to Def Jam Recordings, has collaborated with some heavyweight artists. In 2014, Alsina shared the stage with Usher during the UR Experience Tour, and two powerhouse recording artists, Chris Brown and Lil Wayne, feature on Alsina's new album, in the tracks "Been Around The World" and "Why I Do It," respectively. The album is available for download via iTunes and is also streaming on Spotify. 
This Thing Called Life follows Alsina's debut record, Testimony, which surfaced in 2014 and which sent the artist on the Testimony Live tour that year to support the record. For an artist who's rocketed to greatness in a very short amount of time (Alsina won the award for best new artist at the 2014 BET Awards), the musician has struggled for what he's earned. After losing his father, Alsina's mother banished him from the family's home at the age of 16, according to the musician's biography. Shortly thereafter, Alsina also lost his older brother, Melvin LaBranch III, when on Aug. 31, 2010, LaBranch was shot in New Orleans East. 
"I never expected them [the police] to find his killer," Alsina is quoted in his biography page. "People die everyday in the streets of New Orleans. Unfortunately, death has become a way of life." Yet the recording artist has battled back against tragedies in his personal life by focusing on his music. "You can do whatever the fuck you want to do in this world," Alsina adds in his biography. "I know because I'm a living witness."
Lyrics: Determination features prominently in the lyrics of Alsina's second album. "Nobody ever told you you could live up / To anything you want, don't give up," Alsina raps on "American Dream."
"They rather tell you, you're destined for failure / That's what they tell you / But you just say / What about Martin? / What about Garvey? / What about Rosa? / What about Malcolm?"
And on "Look At How Far I've Come," the recording artist raps, "Look at how far I've come, even though I'm [out here] stressing / Still I gotta do my best and let it go / So I can't look back now / I gotta keep pressing on, 'til I make it, somehow."
On Friday, the artist released a video for "Song Cry," a slow thumping ballad from This Thing Called Life. "Sometimes I get emotional and I can't seem to find the way I'm supposed to go," Alsina sings on the track. "And all these so-called people that I'm supposed to know / They be the main ones / Smile up in your face, but behind your back they hate / So I hope you know / You're like the only reason I'm emotional
"I can't hold back these tears," he continues. "Let me cry / They say a man ain't supposed to cry."
Stream Alsina's sophomore record in full right here: