Hillary Clinton Is Running Against Donald Trump — Even If He's Not the GOP Nominee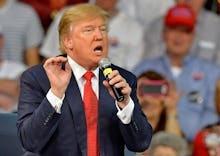 Six months after Donald Trump launched his improbable 2016 White House bid with a bombastic broadside   against Mexican "rapists," the brash real estate magnate remains atop the Republican presidential field, dominating the national polls and leading his nearest rival in New Hampshire by more than two to one.
There are signs that Trump's frontrunner status may be in peril. Notably, the self-proclaimed "winner" is at real risk of losing the kickoff Iowa caucuses, trailing or effectively tying Sen. Ted Cruz (R-Texas) in four of the past five Hawkeye State polls. And with the GOP roster likely to substantially winnow down after the early contests, it's unclear that Trump will have the wherewithal to win in a field of, say, four instead of 14. 
Ask officials from the campaign of Democratic frontrunner Hillary Clinton whom they expect to face in the fall, and they won't name Trump. Appearing at a Berkeley, California fundraiser last weekend, Clinton campaign chair John Podesta told donors that he regarded Cruz as the likeliest GOP standard-bearer, followed by Trump and Sen. Marco Rubio of Florida, Politico reported. Leading Clinton ally David Brock echoed that assessment in Cleveland on Friday, predicting that Cruz would capture the GOP nod but lose decisively in the general election.
But while Hillaryland may view the Texan as the contender likeliest to share a debate stage with Clinton, she's also running against a certain carrot-hued conservative populist. In recent months — and with increasing intensity in the past week — Clinton has made clear that regardless of whether he emerges as the Republican nominee, Donald Trump will be on the general election ballot.
No, that's not a reference to Trump's possible run as an independent candidate, which would all but foreclose Republican hopes of winning back the presidency. Instead, Clinton is making a concerted case that whether Trump prevails in the Republican contest or not, his brand of politics — call it Trumpism — already has.
"Trump without the pizzazz or the hair": Clinton began sounding the theme late this summer. Confronting sagging poll numbers amid renewed questions about her use of a personal email server as secretary of state, Clinton aimed to rejuvenate her candidacy with sharpened attacks on Republicans. Trump had proven surprisingly resilient in leading his rival GOPers, withstanding firestorms over his claim that Mexicans were sending "rapists" to the United States, his denigration of Sen. John McCain's (R-Ariz.) war record and his vitriolic attack on Fox News anchor Megyn Kelly. 
The laws of political gravity seemed to dictate that Trump would ultimately implode, but Clinton was intent on convincing voters that his ideas would outlast his campaign.
"Their flamboyant frontrunner has grabbed a lot of attention lately, but if you look at everyone else's policies, they're pretty much the same," Clinton told Democrats in Minneapolis in August. "They're Trump without the pizzazz or the hair."
"You hear Mr. Trump say hateful things about immigrants, even about their babies," Clinton went on. "But how many others disagree with him, or support a real path to citizenship, or draw the line at repealing the 14th Amendment? Today the party of Lincoln has become the party of Trump."
As his lead in the polls proved surprisingly persistent, Clinton redoubled her efforts to cast the GOP as the party of Trump. His endorsement last week of a "total and complete shutdown" of Muslims entering the United States triggered an escalation of those efforts.
To hear the Clinton camp tell it, Trump's proposal signaled a dark new turn in the 2016 debate, but was par for the course from a party whose candidates have espoused remarkably hard-line views about Muslims. 
"While the other Republicans may not get the same press or poll numbers as Donald Trump, they hold many of the same extreme and out-of-date positions as their frontrunner," Christina Reynolds, the Clinton campaign's deputy communications director, told Mic. "As we've done throughout the primary, we will continue to remind voters of their agendas, and what's truly at stake in this election — the safety and prosperity of American families."
On Wednesday, the campaign rolled out an online quiz titled "Who said it: Donald Trump or not Donald Trump?" The quiz featured New Jersey Gov. Chris Christie's statement that he opposed letting in even orphaned toddler refugees from Syria, former Florida Gov. Jeb Bush's endorsement of a Christians-only refugee policy and Sen. Marco Rubio's (R-Fla.) implication that there's no "evidence that we have a problem in America with discrimination against Muslims." (The only Trump quote in the quiz? "I'm probably the least racist person on earth.")
In tandem with the release of the quiz, the Clinton camp also posted a video juxtaposing Trump's call for a Muslim ban with other inflammatory statements from the candidates, including Ben Carson's remark that he'd regard a Muslim as inherently unqualified to serve as president and Rubio's vow to close down "any place" that fosters radicalism, be it a mosque, "a café, diner, an internet site."
Trump, the video pronounced, is simply "the inevitable product of an extreme Republican Party."
The roots of Trumpian rage: So are Clinton's attempts to brand the GOP as the party of Trump grounded in fact? Or is the showman a singular force shaking up the race?  Norm Ornstein, a resident scholar at the American Enterprise Institute and veteran observer of party politics, suggests it's the former.
Fueling the Trump phenomenon "is the deep-seated anger by very substantial numbers of Republicans and conservatives at all establishment figures, but a strong focus on the Republican establishment," Ornstein told Mic. 
"They hate Obama — there's no doubt. But they hate their own leaders. They feel they've been seduced and abandoned repeatedly," he added, citing conservative disillusionment after GOP leaders failed to roll back key initiatives like health care reform and the Dodd-Frank financial overhaul.
"There's a sense that the leaders have been disingenuous and weak," Ornstein continued. "And Trump they see as a truth-teller and strong."
Trump's swashbuckling campaign reflects the long-simmering anger of the party base and has reshaped the GOP presidential field. Even Bush, a paragon of the party establishment, is compelled to acknowledge that Trump has "tapped into this anger and angst that Washington's not working," something Bush said he "totally" understands. Assuming Trump is dethroned from his perch atop his fellow contenders, it'll likely be because some other candidate convinced GOP voters that he'll be a more credible messenger for that anti-establishment ethos.
Cruz is Exhibit A. His scorched-earth tactics as the senator who pioneered the 2013 government shutdown earned him right-wing renown, but they inspired establishment scorn. Derided as a "wacko bird" by Sen. John McCain (R-Ariz.), the Obamacare-loathing, immigration reform-denouncing, elite-bashing Cruz can credibly make the case that he was Trump before Trump.
Ironically, the GOP establishment's crippling fear of a Trump nomination may pave the way for a Cruz victory. As Jonathan Chait argued in New York Magazine, if the race boils down to Trump, Cruz and Rubio — widely regarded as the most likely scenario at this point — Cruz could position himself as the compromise candidate between the fringe Trump and the allegedly "moderate" Rubio. Though Cruz hasn't budged in his hard-line views, Trump has made him more palatable to the Republican elite: "Washington Republicans despise Cruz," Chait wrote, "but they could learn to live with him, and it's entirely possible that they will need to do just that."
Meanwhile, the rightward drift of the GOP has forced Rubio to recalibrate his approach. After helping spearhead the push for comprehensive immigration reform in 2013, Rubio has since walked back his pro-reform views. Just months after the Senate passed a comprehensive reform bill in a bipartisan vote, Rubio, citing House conservative objections, announced that he opposed a comprehensive approach. That U-turn hasn't stopped rivals like Trump from attacking Rubio's immigration record, and it's also provided fodder for Clinton, who this week accused Rubio of drifting toward "extremes and away from the rest of America."
The elephant in the room: The Clinton campaign hopes that Trump has boxed his rivals in. With 70% of GOP voters saying they want a president who will oppose a path to citizenship for undocumented immigrants, per a Washington Post/ABC News poll this spring, winning the GOP nod as an immigrant-embracing reformer is a tall order, as Bush has discovered. 
But wooing those voters may well cause the party significant headaches in the general election, when the GOP will need to eat into Clinton's support among the multi-ethnic coalition that twice elected President Barack Obama.
For figures like Rubio, appealing to the Trumpian element of the GOP might simply mean inverting Bush's "lose the primary to win the general" formula.
"Rubio has run very far away from his initial, quite commendable actions in pulling together a comprehensive immigration bill. And he's very adept at using rhetoric to try and soften some of those blows, but I think it's going to be hard [to deflect Clinton's] 'party of Trump' [attacks]," Ornstein told Mic. 
"Trump's words are going to stick with the Republican Party to a significant degree no matter who the nominee is. That will make it much, much harder for them to be able to secure support from Asian-Americans, Hispanic-Americans, much less African-Americans," he said. 
That's not to say Clinton's guilty-by-association strategy will be equally effective against all her prospective rivals. An MSNBC/Telemundo/Marist poll released last week found, for instance, that while Clinton enjoys solid leads over all GOP comers among Latinos, Latino voters are more receptive to some Republicans than others. Clinton trounced Trump 69% to 27% among Latinos, and bested Cruz 61% to 34%. But Rubio trailed Clinton by just 19 percentage points among Latinos, 38% to 57%. 
Yet even Rubio's 38% would likely prove insufficient for a GOP general election victory; an analysis from the firm Latino Decisions concludes that the party's nominee will need to win more than 40% of Latinos to reclaim the executive branch, assuming the party's share of white voters holds steady. 
So long as Trumpism remains a dominant force in the GOP, that task will be all the more difficult.