'Star Wars' 7: Early Ticket Sales Numbers and Box Office Projections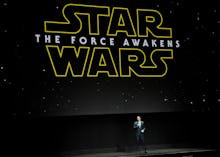 Star Wars: Episode VII —The Force Awakens, the seventh film of the cult classic outer space series, hits theaters Friday, and considering fans started lining up more than a week in advance and tickets are close to being sold out, it seems appropriate that the film is expected to rake in somewhere between $1.5 and $2 billion worldwide, the Los Angeles Times reported.
After months of intense anticipation, The Force Awakens is expected to be a box-office beast. It's projected to earn between $175 to $250 million in the U.S. and Canada alone during it's opening weekend, according to the Los Angeles Times, breaking the record for the highest-earning film to premiere during December (The Hobbit: An Unexpected Journey currently holds the record at $85 million). Ticket retail giant Fandango told CNBC on Sunday that pre-sale tickets for the movie have already surpassed any other movie, and IMAX said it's doubled the previous record.
Avatar is the current record holder for biggest grossing film of all time at $2.8 billion, CNBC reported, but it's possible that Star Wars will steal that title. "I think it's going to own January," Erik Davis, managing editor of Fandango, told CNBC. "I know one guy who has nine tickets to see it in the first week alone. That's what we're talking about."
"The only words to describe the first day of IMAX worldwide advance ticket sales for Star Wars: The Force Awakens are 'record-shattering,'" IMAX Entertainment CEO Greg Foster told the Hollywood Reporter. IMAX reported $6.5 million in domestic ticket sales. 
"People are searching and craving and demanding content," Moviepilot CEO Tobi Bauckhage told CNBC. "That's a very strong signal."
The hashtag #TheLineAwakens shows people already lining up to watch the film more than a week before its release. In November, a dying Star Wars fan was granted his last wish when a social media campaign led Walt Disney Studios to allow him and his wife to watch the upcoming film in their home before its release.
Watch the full trailer below: