Roadkill Fashion Controversy: "Accidental Fur" Line Turns Dead Animals Into Clothes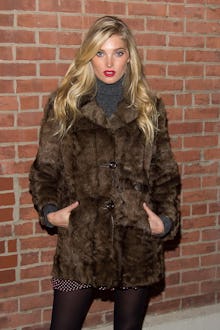 Roadkill is getting a new, fashionable life. For her Boston-based company Petite Mort Fur (or "the little death" in French), which she opened two years ago, Pamela Paquin turns roadkill into handmade, locally-made fur accessories like neck muffs, leg warmers, hats and more, according to the Associated Press. However, Paquin's roadkill furs haven't been without controversy. 
"It's a way for the customer to honor the animal and the animal's life, rather than dissociating from it in the way you have to when you have fur that comes from trapped or caged animals," she told CNN Money in July. Called "accidental fur," Paquin hopes to shift the fashion industry from consciously killing animals, whether in the wild or on farms, to sustainably using usually wasted roadkill, and to break the negative stigma around fur. 
How are they made? Animal control and the Highway Department alert Paquin when there's roadkill, according to CNN. She then picks it up to skin it herself — leaving the remains in the woods for other animals to eat — and then ships the fur off to a tannery. After that, Paquin sews it into whatever piece accordingly, and attaches a small silver badge that details the origin of the fur. "It's never easy to do this work," she told the Boston Globe in November. The Humane Society estimates millions of roadkill deaths occur every week in the United States.
A silk-lined fox neck muff goes for $1,300, according to her Etsy shop. A similar Gorski fur infinity scarf goes for $995, according to Neiman Marcus. 
Roadkill fur controversy: Paquin's efforts are met with critics on both ends of the fur argument. Those involved in the fur trade industry argue that the industry is actually highly regulated. "In fact, the populations of every species used by the industry today are as abundant, or more abundant, than they were a century ago," head of the Fur Information Council of America Keith Kaplan told the AP.
Kara Holmquist from the Massachusetts Society for the Prevention of Cruelty to Animals told the AP that Paquin's method is in "poor taste." Other animal rights advocates argue that Paquin's products only make wearing fur more acceptable, contradicting their efforts to end the trend completely. 
To that, Paquin said that the fur-wearing trend is clearly not ending and that "alternatives must be found." She added that those criticizing her are "being short-sighted."
Paquin also isn't the only one bringing awareness to roadkill. On Nov. 7, Burlington's Hotel Vermont served a $75 feast consisting of roadkill.