Here's the Word on This East Coast Weather: Start Dreaming of a Green Christmas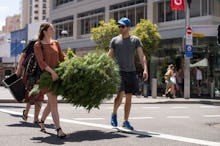 The weather has always been a favored topic for small talk, but as the Northeast experiences another 60-degree December day it's rightfully moved out of the elevator and into every East Coaster's consciousness. Temperatures in New York hovered around 61 degrees last Thursday, with Boston — whose snow from last winter just finished melting in July — at 55 degrees, according to CNBC. 
Sure, the balmy weather has extended the season of iced coffee, short sleeves and peeling off layers on the rush hour subway, but should we be concerned that a larger force is at play?
John Homenuk, forecaster and founder of New York Metro Weather which offers forecasts, analysis and consulting services to corporate clients, told Mic all signs point to El Niño and the stratospheric vortex as the cause. But not to worry — both are normal features of the earth's weather system. 
"This particular event has almost nothing to do with [climate change]," Homenuk, said. "It has almost everything to do with El Niño and the stratospheric vortex. In fact, I don't think this can be traced back to climate change at all — this is textbook El Niño."
The warm waters caused by the phenomenon affect the weather patterns around the world and, according to Homenuk, we're currently in the middle of one of the strongest El Niños. But it is only partly responsible for the freakish holiday season. Rather, it's El Niño working in tandem with the stratospheric vortex, popularly known as a "polar vortex," the cold, low-pressure areas at the north and south poles. Together they are the recipe for days like this past Sunday, when New Yorkers enjoyed a record-setting 66-degree day.
"In order for cold air from the poles to get down to our area you need the vortex to be disrupted. If it's one solid entity, it won't go anywhere. Right now, all of the cold air is really bottled up near the poles," Homenuk said. He also said Northeasterners should keep their shorts at arm's reach through December, as another "shot of warm air" is slated to hit around Christmas and hang around until the new year. 
So if you're looking for a chance to break out your blanket scarf, plan on holding off until 2016. That, says Homenuk, is when we can expect to see snow — or at least a better chance of it. But, he also says, don't hook up those tire chains just yet. 
"I don't expect any shots of snow to be as severe as last year. It's going to feel worse because of what we're experiencing right now, but it's all relative."