Tinder Is Encouraging Users to Become Organ Donors in the UK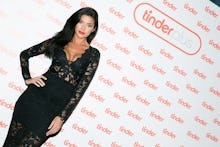 As Tinder users throughout the United Kingdom search for love over the next two weeks, they'll be notified of another potential match that could be just as life-changing. The U.K.'s National Health Service is partnering with the online dating app to connect millions of young people to the NHS Organ Donor Register, BBC reported.
"While a third of the UK population have registered their intention to donate on the NHS Organ Donor Register, millions more support donation but haven't taken the final step to sign up," Director of Organ Donation and Transplantation at NHS Blood and Transplant Sally Johnson told BBC. "Joining the register takes only a couple of minutes - about the same amount of time as a few swipes on Tinder."
According to BBC, roughly 7,000 patients across the U.K. are on the transplant waiting list. In the past 10 years, nearly the same number failed to receive a transplant, with 6,000 people dying while on the list. That's exactly why the NHS says it partnered with Tinder, which boasts over 26 million matches per day.
In an effort to attract Tinder's crowd of mixers and minglers, the company created faux profiles of three U.K. celebrities, including Gemma Oaten, reality star Jamie Laing and gold medalist Jade Jones MBE. When users swipe right on the celebrity profiles, a message appears after an immediate match is made: "If only it was that easy for those in need of a life-saving organ to find a match."
"While those swiping decisions are important and could be the first step to a successful relationship, we hope that the NHS profiles featuring Jamie, Jade and Gemma will encourage people to make and act upon a different decision, too — to sign up as an organ donor," Tinder's head of European communications Hermione Way told BBC.