NBA Referee Reveals He Is Gay as League Continues to Grapple With Intolerance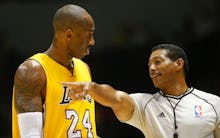 Bill Kennedy, an 18-year veteran referee with the National Basketball Association, revealed he is gay in a statement toYahoo! Sports Sunday night.
"I am proud to be an NBA referee and I am proud to be a gay man," Kennedy said. "I am following in the footsteps of others who have self-identified in the hopes that will send a message to young men and women in sports that you must allow no one to make you feel ashamed of who you are."
The announcement comes as many professional sports leagues — including the NBA — grapple with issues of intolerance. Just 10 days prior, on Dec. 3, Sacramento Kings point guard Rajon Rondo allegedly called Kennedy a "motherfucking faggot" when Kennedy ejected him from a game — a charge Rondo denies, but which was corroborated by another referee present at the time, Ben Taylor, according to Yahoo! Sports.
Here is a video of that incident:
Rondo was suspended for one game and condemned by the National Basketball Referee's Association through its general counsel, Lee Seham. "The NBA referees stand by Bill Kennedy for the job he does and who he is," Seham said, according to Yahoo! Sports. "We stand against bigotry in all its forms."
This isn't the first time an NBA player has faced penalties for using homophobic slurs on the court. In 2011, Chicago Bulls center Joakim Noah and Los Angeles Lakers guard Kobe Bryant were fined for directing anti-gay slurs at a fan and a referee, respectively. Both players later apologized.
Adam Silver, the NBA's commissioner, gave a statement in support of Kennedy's announcement on Sunday. From Yahoo! Sports:
"I wholeheartedly support Bill's decision to live his life proudly and openly. Throughout his 18-year career with the league, Bill has excelled as a referee because of his passion, dedication and courage. Those qualities will continue to serve him well both as a game official and as a positive influence for others. While our league has made great progress, our work continues to ensure that everyone is treated with respect and dignity."
Kennedy is the second NBA ref to come out as gay. The first was Violet Palmer, an 18-year veteran who made her sexual orientation public in July 2014 during an interview with the Associated Press, where she also announced she was marrying her longtime partner, Tanya Stine.
"This is actually the big formal coming out," Palmer told AP at the time. "We are saying to the world, to everyone, here's my wife of 20 years. This is the big coming out." Palmer was also the first woman to referee an NBA game, back in 1997.
In April 2013, center Jason Collins came out as gay, becoming the first — and to date, the only — openly gay player to ever play in the NBA.
"No one wants to live in fear," Collins wrote in a Sports Illustrated op-ed at the time. "[Each] time I tell another person, I feel stronger and sleep a little more soundly. It takes an enormous amount of energy to guard such a big secret."
Kennedy, 49, has refereed more than 1,100 regular season and playoff NBA games, according to Yahoo! Sports. He has also officiated in five NBA Finals games and at the 2012 Summer Olympic Games in London, England.