Mountain Goats Announce Spring 2016 Tour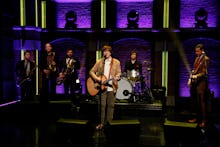 Longtime fans of indie-folk giants the Mountain Goats are about to be gifted an atypical tour. Inspired by an intimate show the band performed in the basement of City Winery in New York City, the group is gearing up to perform a limited number of small-venue concerts this spring.
"One thing that happened this past year was at City Winery, in April, where we did a session down in the cellar between soundcheck and the show," the band's frontman John Darnielle wrote in a blog post published on Tuesday. "We hadn't really thought a whole lot about the session in advance — on tour, your default response to things is 'let's just show up and play' — and we were kind of under the gun time-wise when we got to the club. So we decided to just do it quick and dirty, old-school style."
"So in 2016 we're taking that set on the road," Darnielle continues in the blog post, by way of explaining the upcoming tour. "Not that exact set, obviously; the particulars will vary from night to night. But smaller rooms, audible frequencies, up close and personal: this is the general plan. Making eye contact with people in the back row, being able to go off-mic when I want to and still be heard. Total visibility."
The band released its first studio album Zopilote Machine in 1994. Tracks from the band's 15th's studio album, Beat the Champ, which was released on April 7 through Merge Records, are likely to make an appearance on the tour's setlist. 
"Along the way, Darnielle has recorded and released hundreds upon hundreds of songs under the Mountain Goats name, making it all the more remarkable that he still finds new characters to embody and stories to tell," NPR's Stephen Thompson wrote of the band's latest album. "On Beat the Champ, he takes an ambitious concept — a nostalgic but mostly realistic look at the workaday Southwest underworld of the pro wrestlers he idolized as a kid — and teases it out to album length."
Source: Soundcloud
Here's the album art, which the band shared to Facebook:
Tour dates:
2/24 – Tallahassee, FL, at the Side Bar Theatre
2/25 – Gainesville, FL, at High Dive 
2/27 – San Francisco, CA, at the Swedish American Hall
2/28 – San Francisco, CA, at the Swedish American Hall 
3/1 – Arcata, CA, at the Depot
4/1 – Woodstock, NY, at Bearsville Theater
4/2 – New Haven, CT, at College Street Music Hall
4/3 – Providence, RI, at Columbus Theatre
4/4 – Portland, ME, at Port City Music Hall
4/6 – Buffalo, NY, at Asbury Hall 
4/7 – Cleveland, OH, at Beachland Ballroom and Tavern
4/8 – Ann Arbor, MI, at the Blind Pig
4/9 – Indianapolis, IN, at the Vogue
4/11 – Chicago, IL, at City Winery
4/12 – Chicago, IL, at City Winery
4/13 – Chicago, IL, at City Winery
4/14 – Grand Rapids, MI, at Covenant Fine Arts Center 
4/16 – York, PA, at the Strand-Capitol Performing Arts Center
4/17 – New York, NY, at City Winery
4/18 – New York, NY, at City Winery
4/19 – New York, NY, at City Winery
Footage of the April City Winery show that planted the seed for this tour was captured and shared to YouTube. Here's the type of show fans can expect: