The Kids of 'Transparent' Are Horrible — and They're the Best Part of the Show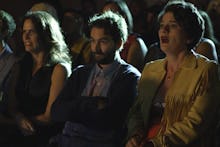 Inarguably, the Pfefferman kids on Amazon's Transparent are terrible people. Sure, one could defend Ali (Gaby Hoffmann) as a lost spirit, or Josh (Jay Duplass) as a realistic modern man, or Sarah (Amy Landecker) as someone confused by her sexual identity. That's all true. That also doesn't make them any less intolerable.
The Pfefferman kids "cannot see beyond themselves," as moppa Maura (Jeffrey Tambor) says in the first season. They're selfish brats raised in a hamlet of privilege, the Pacific Palisades in Los Angeles, utterly unchallenged to think beyond themselves. They learned from their parents, Maura and Shelly (Judith Light), ex-spouses whose marriage was short on affection and long on secrets.
Yes, Ali, Josh and Sarah Pfefferman are three of TV's most deplorable characters. They're also three of the best. Their growth is directly related to why Transparent is a masterful series.
NOTE: Spoiler alert for all of the first season of Transparent and the first episode of the second.
Throughout the show's first season, the Pfefferman kids proved themselves to be brats at nearly every turn. Ali feigned sexual confidence while using men for their status. An attempted threesome with her trainer and his friend went awry in a drug-fueled haze in "Rollin." In "Symbolic Exemplar," she tries to get sexually involved with a trans man, imagining that he lives a far more rugged lifestyle in a fit of fantasy.
Josh is no better. He struggles to accept Maura's transition as he grows increasingly obsessed with maintaining the family's status quo. He treats Sarah's girlfriend Tammy (Melora Hardin) with derision, blocking her attempts to makeover Maura's house in "Wedge." Until he meets Rabbi Raquel (Kathryn Hahn) later in the season, he seems to loathe women and any control they have over his life.
All three prove themselves to be especially loathsome in "Symbolic Exemplar," where Maura invites them to her talent show at the LGBT center. They all bail on her during her performance of "Somebody That I Used to Know," walking out in the middle of the performance — this after she asked each of them kindly multiple times to come to support her.
It all comes to a head in the season one finale, in which Maura and Ali fight over her cancellation of Ali's bat mitzvah so Maura can go to a cross-dressing camp. Ali accuses Maura of using money to control the kids, leading to Maura's roaring response. "My beautiful girl, you cannot do anything," she spits at Ali.
It's an incredibly harsh diatribe, but one that feels natural. Maura is clearly horrified by what she's created in her children, and her frustration comes out in screaming form.
The two make up, and the family comes together enough to attend Sarah and Tammy's wedding in the season two premiere. Seemingly, the kids have grown: Ali is still flighty, but she's more in control of her personal exploration. Josh has formed rewarding relationships with Rabbi Raquel and his newfound son Colton, approaching new obligations with some selflessness.
It's at the wedding, however, that Sarah shows her worst side. She goes through with the ceremony only to realize that she thinks she hates Tammy. They break up after a lavish ceremony. It's an incredibly selfish act, and the next few episodes reveal the devastating effect it had on her almost-wife.
Throughout season two, however, Sarah has to grow from that mistake. She's got kids and exes, so she can't just restart her life on a whim like Ali. Sarah's trapped, and she has to make the best of a bad situation. In the same way that Josh and Ali had to grow after season one, this is her time to figure out who she is and what she wants.
This is why the kids are so vital to Transparent: They form the show's central growth arc. There are interesting shades to reveal with Maura and Shelly, especially the former as she completes her transition. However, both of them are complete adults. They're unlikely to change — they merely adjust to new circumstances. 
Sarah, Josh and Ali are three of the most well-formed characters on TV because of their incompleteness. They're works in progress, transitioning in their own ways. They backslide and behave badly because that's how they were raised. When they do good, however, it's the sign of something more. It's the sign of growth.