Adele at Radio City Music Hall Live Stream: Here's How to Watch NBC Special Online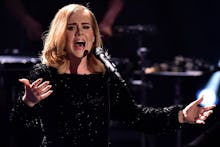 Adele blessed a select group of sweepstakes ticket winners with dazzling live performances of songs off her latest album 25 before the album's release in November during a one-night only concert at New York's Radio City Music Hall. Thankfully, the concert was filmed for the NBC television special Adele Live in New York City that airs Monday and can be live-streamed for those without a television. 
The anticipated television event will commence at 10 p.m. EST on NBC and stream live on its website. The night of the Nov. 17 concert, an audience member tweeted that "fans were legit in tears that whole show." It was the platinum British artist's first full performance in four years. 
What to expect: A preview for the television special doesn't reveal much aside from Adele's makeup artist perfecting her contour and the curtains rising to a psyched audience. All other details, aside from the numerous clips fans uploaded of the performance to social media, will have to wait until the full concert airs. 
In other, possibly more exciting, Adele news, the artist announced U.S. stops on her upcoming worldwide tour on Monday. The tour hits the states in July and makes its rounds through November. Find out tour dates, cities and how to buy tickets here.