American Pharoah or Serena Williams? Internet Says Racehorse Was Sportsperson of the Year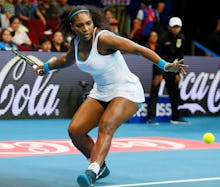 There's no question that it was a stellar year for legendary tennis phenom Serena Williams. She's currently ranked one of the best tennis players in the world, she's the second-highest paid woman athlete on the planet and she rode into the U.S. Open this summer on a high after a series of major wins. 
On Monday, Williams received yet another major honor: Sports Illustrated named her their 2015 Sportsperson of the Year, something that disappointed some Sport Illustrated readers who thought the award should have gone to a horse instead.
Despite Serena's incredible performance this year, racehorse American Pharoah won Sports Illustrated's online poll for Sportsman of the Year by a pretty wide margin: the horse won 47% of the online vote, beating out the second place finishers in the poll, the Kansas City Royals, by 18 points.
American Pharoah is certainly a very accomplished racehorse, the 3-year-old horse became the 12th Triple Crown winner in history this year. The decision, however, as to who should be named Sportsperson of the Year wasn't up to the readers, it was the editors' call, and they gave the title to Williams — a phenomenal athlete and the first woman to take the award since 1983.
Since the announcement, however, fans of American Pharaoh have been voicing their dissent, complaining on social media that the horse, not Williams, deserved the honor.
But many fans on the other side of the debate have been tweeting out their support for Williams and for the decision, as well as pointing out that American Pharoah, as talented as he is at racing, has absolutely no idea what awards even mean. Because he is a horse.
Get the five stories that will challenge you to rethink the world by signing up for MicCheck Daily.