Drone Registration in the US: How to Register Your Drone Online for Free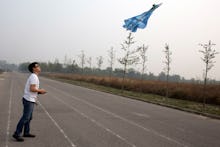 The Federal Aviation Authority is putting an end to people launching unmanned aircraft without ever having to register them with the government, according to a press release published Monday. "Make no mistake: Unmanned aircraft enthusiast[s] are aviators, and with that title comes a great deal of responsibility," U.S. Transportation Secretary Anthony Foxx said, according to the statement. "Registration gives us an opportunity to work with these users to operate their unmanned aircraft safely. I'm excited to welcome these new aviators into the culture of safety and responsibility that defines American innovation."
The registration is mandatory, and will be free for the first thirty days to all applicants, including those who have purchased an aircraft or drone prior to Monday. Owners of drones, or other unmanned aircraft (known as UAS) will need to register with the FAA by Feb. 19, 2016. Owners of UAS must be at least 13 years old in order to register their devices through the new online registration portal, found here.
And it all comes just in time for the holidays.
"We expect hundreds of thousands of model unmanned aircraft will be purchased this holiday season," FAA Administrator Michael Huerta said in the press release. "Registration gives us the opportunity to educate these new airspace users before they fly so they know the airspace rules and understand they are accountable to the public for flying responsibly."
So, what's required in order to register? According to the press release, "Registrants will need to provide their name, home address and email address. Upon completion of the registration process, the web application will generate a Certificate of Aircraft Registration/Proof of Ownership that will include a unique identification number for the UAS owner, which must be marked on the aircraft."
After the free period to register UAS, the FAA charges a $5 fee, but the process can still be done through the organization's new online service. Owners of drones could be liable for civil and criminal penalties if they fail to register their aircraft.