24 Unforgettably Powerful Images That Show the World as It Was in 2015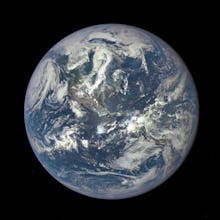 This year brought with it a slew of moments worthy of history books — with bloodshed and tears shed, with losses on a big scale and a small one, from spectacle on the political stage to the Super Bowl stage, from victories to defeats. This year photographers around the world kept busy snapping iconic images of heartbreak, terror, drama and triumph.
Here are those days as seen through lenses across the planet.
Baltimore protester washes pepper spray out of his eyes.
A man uses milk to rinse pepper spray out of his eyes on April 27, amid widespread protests over the death of 25-year-old Baltimore man Freddie Gray in Baltimore police custody on April 19.
Charlie Hebdo issues first cover after massacre at its office in Paris.
On Jan. 14, French satirical newspaper Charlie Hebdo released its first issue since a team of extremist gunmen burst into its offices Jan. 7, murdering 12 people in revenge for its multiple covers satirizing Islam.
"All is forgiven," reads the caption over a drawing of the Prophet Mohammed holding a "Je suis Charlie" sign. But many pointed out that the prophet's head is shaped like a part of the male anatomy.
The body of a 3-year-old Syrian refugee washes up on the Turkish shore.
Aylan Kurdi drowned off the shores of Turkey while attempting to cross the Mediterranean, as hundreds of thousands of others have attempted in recent years. But when photos of his lifeless body spread across the internet on Sept. 2, it triggered a massive policy overhaul across European countries confronted with a refugee influx.
Video from a McKinney, Texas, pool party exposes police brutality and racism.
Appalling footage of a McKinney, Texas, police officer violently arresting a young black girl on June 5 leaked soon thereafter, exposing Officer Eric Casebolt's handling of an incident that originally began when local parents simply reported a group of mostly black teens crashing a pool party.
Casebolt resigned soon after amid a storm of national condemnation, but U.S. police forces continue to regularly target minorities for disproportionate and heavy-handed enforcement of the law.
White House lights up in rainbow colors after Supreme Court legalizes gay marriage nationwide.
The White House lit up with rainbow colors on June 26 following a historic Supreme Court decision to legalize same sex marriage across the country. 
"I did not have a chance to comment on how good the White House looked in rainbow colors," President Barack Obama told the press. "That made it a really good week. To see people gathered in an evening outside on a beautiful summer night, and to feel whole, and to feel accepted, and to feel that they had a right to love, that was pretty cool." 
Protesters take to the streets of Ferguson, Missouri, one year after the death of Michael Brown.
Protesters in Ferguson, Mo. stand in the driving rain on Aug. 9, demonstrating on the one-year anniversary of the death of 18-year-old resident Michael Brown at the hands of Ferguson police officer Darren Wilson.
In the year since, a grand jury declined to indict Wilson for the fatal shooting.
U.S. airstrikes level Doctors Without Borders hospital in Kunduz, Afghanistan.
In a photo taken Nov. 21, a worker for international nonprofit Doctors Without Borders surveys the damage to one of the organization's hospitals in Kunduz, Afghanistan by U.S. airstrikes on Oct. 3. Doctors Without Borders has since accused U.S. military forces of committing a war crime by targeting the hospital.
The death toll of the assault stands at "at least 42 people," according to Doctors Without Borders.
Earthquakes in Nepal kill thousands.
Emergency personnel evacuate wounded from the rubble of Dharahara tower on April 25 in the aftermath of earthquakes throughout Nepal that killed at least 8,583 people.
Caitlyn Jenner introduces herself via the cover of Vanity Fair.
The iconic fashion and lifestyle magazine featured transgender woman Caitlyn Jenner on its cover for its July issue, triggering a long-overdue conversation among Americans about gender, sex and trans rights.
Authorities believe Tashfeen Malik and Syed Farook pledged allegiance to the Islamic State group before killing 14 people and wounding 22 others during a gun rampage at Inland Regional Center on Dec. 2. Both were later shot to death in an intense firefight with authorities who had been tracking the black SUV the duo used to flee the scene.
The Eiffel Tower lights up following terrorist attacks in Paris.
On Nov. 16, the Eiffel Tower lit up in the colors of the French flag as a sign of mourning, pride and defiance in the wake of Nov. 13 terrorist attacks in Paris that killed 130 people and injured more than 350 others. The iconic landmark went symbolically dark for two days following the attacks.
Dylann Roof posts neo-Confederate manifesto before committing mass murder.
On June 17, the 21-year-old white supremacist entered the historically black Emanuel AME Church in Charleston, South Carolina, and murdered nine African-Americans. A racist manifesto found after the attacks was posted next to images of Roof posing with the Confederate flag and burning the U.S. one, spurring the South Carolina legislature to officially retire the Confederate flag that had flown outside the state building for decades.
Syrian man carries slain child after reported government strike in Aleppo.
The Syrian government, led by Alawite autocrat Bashar al-Assad, is responsible for the vast majority of the hundreds of thousands of civilian casualties throughout the country in recent years. This photo, taken on June 20, shows a man carrying the body of a child from the scene of a government bombing in the contested city of Aleppo.
The United States is now also launching airstrikes in Syria in conjunction with an international coalition of governments against ISIS, though little end to the conflict is in sight. 
Pakistani aid workers watch in horror as South Asia heat wave kills thousands.
Aid workers in Karachi, Pakistan are overtaken with emotion on June 22 as bodies from an ongoing heat wave in South Asia overwhelm the capacity of a morgue. In India, more than 2,300 people died, while in Pakistan, the death toll shot past 1,000.
President Barack Obama and Angela Merkel inadvertently reenact the Sound of Music.
Merkel, the German chancellor, and Obama recreate an image straight out of the Richard Rodgers musical while kicking back in Germany's Bavarian Alps on June 8 during the G7 summit.
Serena Williams celebrates sixth Wimbledon win.
On July 11, Serena Williams won her sixth Wimbledon title (this time against Spain's Garbine Muguruza), completing her second "Serena Slam," which happened to also be her 21st Grand Slam win. In December, Sports Illustrated named her the Sportsperson of the Year.
Minnesota dentist Walter Palmer inspires global outrage after killing Zimbabwe's Cecil the lion.
A note posted outside River Bluff Dental in Bloomington, Minnesota, on July 27 shames dentist and practice-owner Palmer for the slaying of Cecil the lion in the country's Hwange National Park earlier that year in an illegal hunt.
Roanoke, Virginia, news station WDBJ continues broadcast after two of its reporters are murdered on live television.
In a photo taken Aug. 27, WDBJ anchors are shown reporting on the Aug. 26 deaths of their colleagues Alison Parker and Adam Ward, who were murdered live on TV while interviewing a woman at a shopping plaza.
Ward's last live shot ended with a chilling image of WDBJ ex-employee Bryce Williams at the scene of the murders that later proved instrumental in solving the crime.
Shortly after, Williams committed suicide after posting further live footage of the murders online, and while pursued by a massive police manhunt. 
Pharma bro Martin Shkreli raises price of drug used in HIV treatment by 5,000%.
Shkreli, Turing Pharmaceuticals' CEO, became one of the most hated men in the country after obtaining the rights to the anti-protozoal drug Daraprim, often used in HIV treatment, and raising the price by an astonishing 5,000% after Turing acquired it in August.
Real-estate billionaire Donald Trump surges to frontrunner status in Republican presidential primary.
On Dec. 6, Trump announced his intent to implement a complete and total shutdown of all Muslim entry to the United States, continuing a record of controversial and often bigoted statements that have kept Trump at the head of the GOP presidential pack since July.
This Dec. 3 photo taken at the Republican Jewish Coalition Presidential Forum shows Trump extending his arm, momentarily and unintentionally caught in a pose resembling a Nazi salute. As Trump's ruthless rhetoric continues to escalate, he has risen in the national polls and begun to terrify the Republican Party's leadership.
Former Oklahoma City officer and convicted serial rapist Daniel Holtzclaw sobs in court as guilty verdict comes down.
On Dec. 10, former Oklahoma City police Officer Daniel Holtzclaw was convicted on 18 separate charges of rape, sexual battery and forcible oral sodomy after 13 black women from some of the city's most disadvantaged neighborhoods came forward with allegations he had used his law enforcement authority to rape them.
Holtzclaw broke down in tears at his sentencing, but the conviction was a relief to victims' advocates who protested Holtzclaw's all-white jury.
Saudi Arabian women vote and are elected to office for the first time.
Dec. 12 marked the first time women not only voted in Saudi Arabia, but earned seats on local governments. The hyper-conservative kingdom  still bars women from numerous freedoms such as driving and leaving home without a male "guardian."
BBC drone captures haunting footage of the ruins of Auschwitz concentration camp.
In a video released on the 70th anniversary of Nazi death camp Auschwitz on Jan. 27, the BBC used haunting drone footage to show the extent of the atrocities perpetrated by Adolf Hitler's murderous regime. "One minute in Auschwitz was like an entire day. A day was like a year. A month, an eternity," survivor Roman Kent says in the video's description.
Katy Perry descends during the Super Bowl XLIX halftime show.
Perry's halftime show performance at Super Bowl XLIX on Feb. 1, in which she descended from far above the stage on a gigantic shooting star, was so well-received Perry later had the letters XLIX tattooed on her finger.
Read all of Mic's year-in-review coverage here.