Pandora Thumbprint Radio: New Features and How to Use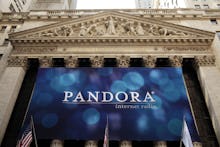 On Monday, internet radio platform Pandora launched a new product call Thumbprint Radio, which the company described in a press release as a "hyper-personalized station for each listener." 
"Discovery and personalization are deeply embedded in Pandora's DNA, and are also what [make] Thumbprint Radio different," a representative for Pandora told Mic in an email. "Thumbprint Radio finds a unique balance of playing your favorites while allowing for a bit of musical discovery based on your personal taste." 
Pandora's latest product release is based on listening history and users' expressed preferences, so a record of reacting to songs on the platform is required in order to access the playlist offering. Thumbprint Radio stations are available to users once listeners have created a minimum of three stations, each of which have four thumbs on record. According to a blog post announcing the offering, Pandora Thumbprint stations are dynamic, and Pandora updates the station's queue in real time based on what tracks listeners favorite. 
"Thumbprint Radio is a collaboration between each listener and Pandora," explained Pandora Chief Product Officer Chris Phillips in the press release. "You shared with us what music you love via all your thumbs, and we heard you. We have combined all your favorites with music we know you'll love to create a new station that reflects your unique musical thumbprint."
Pandora users can head here to access the product offering on desktop. 
"This is not just your thumbs up on shuffle," Phillips wrote in the blog post. "While you rediscover all of your favorites (songs you thumbed up 10 minutes to 10 years ago) we will continue to add in new songs that we think you will love. Simply tune in and listen up – our musicologists have made sure you will be guided seamlessly through all of the genres you have thumbed up, no matter how varied they are."
And to promo the offering, Pandora is putting several of it's musicologists' Thumbprint Stations on display. Here's a sampling of some of Pandora's masterly curated Thumbprint Stations, to give users a better sense of what the new offering entails:
1. Michael A. 
2. Eric S. 
3. Kelly A. 
4. Michelle S.
5. Diego G.