Donald Trump Just Posted His Most Massive Lead Yet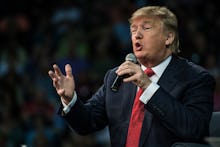 Donald Trump began his Monday facing a spate of unflattering headlines, with Sen. Ted Cruz (R-Tex.) having officially snatched the top position in Iowa from the real estate tycoon. Then came the midday release of a national poll from Monmouth University, which showed Trump posting his most massive lead since entering the 2016 contest in June.
Trump crushes the Republican field with 41% support, the poll finds, with Cruz, Sen. Marco Rubio of Florida and retired neurosurgeon Ben Carson far behind. Cruz garners 14% of Republican voters, while Rubio claims 10% and Carson wins 9%.
Further behind are Ohio Gov. John Kasich and former frontrunner Jeb Bush at 3%, while New Jersey Gov. Chris Christie, businesswoman Carly Fiorina, former Arkansas Gov. Mike Huckabee and Sen. Rand Paul of Kentucky earn 2% each. Sen. Lindsey Graham of South Carolina sits at 1%.
For Trump, the poll marks a 13-percentage-point jump in his support from the last Monmouth survey, conducted in October. In that poll, Trump led the field with 28% support, followed by Carson at 18% and Cruz at 10%. No other candidate earned double-digit support in that poll.
Most disconcertingly for the GOP establishment, the latest poll finds a hefty portion of its electorate, even beyond current Trump supporters, coming around to the idea of Trump as their standard-bearer. Two-thirds of GOP voters said they'd be either enthusiastic or satisfied if he captured the party's nod, while 65% said the brash billionaire had the right temperament to serve as president.
Trump's favorability rating stands at 61% — the best among the field and a nine-point jump from his 52% favorable rating in the October Monmouth poll. Only 29% of Republicans view Trump unfavorably, compared to 33% two months ago.
The finding comes amid signs that Trump's call last week for a "total and complete" ban on Muslims entering the United States is resonating with GOP voters. A Bloomberg Politics poll found that two in three Republicans back the ban, although an NBC News/Wall Street Journal survey showed the Republican electorate more divided. 
What's clear, though, is that after briefly surrendering his national polling lead to Carson, Trump is back on top. Of the 12 national polls conducted since November, Trump has led in all of t hem.