Here Are the Women Who Deserve Their Own Magazine Covers in 2016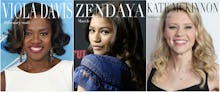 Magazine covers matter. They signal to the world who is a reigning starlet, or introduce a new star to help her rise in the pop culture ranks.
But when it comes to who actually land those coveted cover spots, the variety is starkly one-dimensional. Some longtime stars are simply repeated and repeated and repeated (hello, Blake and Sienna). There is little to no racial and ethnic diversity, with just 22.75% of major fashion magazine covers in 2015 featuring women of color, according to the Fashion Spot. And the women on the covers tend to be known entities, rather than highlighting upstarts or those with cult followings.
That's why it's so remarkable when three multiracial and little-known models appeared on the August cover of Teen Vogue, or even when, just this week, Vogue revealed its January cover girl as Alicia Vikander, a Swedish actress with a distinctive look whose name is only starting to generate buzz for her role in The Danish Girl.
Vogue's decision to cast Vikander got us thinking: Who are some of the other women whose achievements magazines could spotlight? With a little help from our Tumblr followers, Mic came up with a list of women who deserve their own covers in 2016.
Amandla Stenberg
Stenberg should be best known for her role in the Hunger Games, but she became an internet icon when she called out Kylie Jenner's cornrow hairstyle as an instance of cultural appropriation. Stenberg soon found herself in the crosshairs of a mini-internet debate (that Justin Bieber eventually weighed in on) but Stenberg held her own and stood firm by her convictions. Her handling of the situation and her calm explanation about intersectionality and cultural appropriation has made her a leading voice on the issue.
Viola Davis
While she was nominated for a supporting actress Oscar in 2012, 2015 was the year Davis really shone: She became the first black actress to win a leading actress Emmy at the 2015 show. Davis' role as a criminal defense lawyer in How to Get Away with Murder gave her an opportunity to develop a complex character worthy of an award-winning performance — something not all actresses get.
"The only thing that separates women of color from anyone else is opportunity," Davis pointed out in her acceptance speech. "You cannot win an Emmy for roles that are simply not there." Davis has used her platform for good, championing for more diversity in Hollywood as well as visibility for sexual assault victims.
Zendaya
Zendaya has had quite a 2015, establishing herself as the reigning queen of Tumblr (her account was the most reblogged celebrity account on the site in 2015) and a fashionista. The former Disney star also had a cameo in Taylor Swift's "Bad Blood," video and is working on her own album. But Zendaya mostly won the year for speaking out about the importance of culture and identity. 
After Fashion Police host Giuliana Rancic commented on her dreadlock hairstyle at the Oscars, Zendaya fired back on Twitter. "There is already harsh criticism of African-American hair in society without the help of ignorant people who choose to judge others based on the curl of their hair," Zendaya wrote. "My wearing my hair in locs on an Oscar red carpet was to showcase them in a positive light, to remind people of color that our hair is good enough." Oh, and did we mention the girl has her own doll?
Janet Mock
Mock came to the forefront in a groundbreaking 2011 interview with Marie Claire, in which she revealed she had been assigned male at birth, and had kept her past a secret for years after transitioning. "It used to pain me to hear my birth name, a heartbreaking insult classroom bullies would shout to get a rise out of me," Mock said. "But talking and writing about my experiences have helped me finally accept the past and celebrate the fact that I was once a big dreamer who happened to be born a boy named Charles."
Since then, with the release of her memoir and her own show on MSNBC, Mock has become a highly visible champion for transgender rights, speaking out on the intersectionality of identities and advocating for acceptance.
Shonda Rhimes
Given Rhimes' influence — Grey's Anatomy, Scandal, How to Get Away with Murder — we've gotten used to diverse casts of complex characters on TV. Rhimes' shows pretty much dominate the coveted Thursday evening spots (and c'mon, haven't you seen the Scandal memes? Don't you dare interrupt an episode). 
But it's not just diversity for diversity's sake. Rhimes is known for creating multidimensional roles for women, especially women of color, which have opened doors and led to award nominations for actresses like Kerry Washington and Viola Davis. Oh, and she doesn't shy away from talking about her own choices, including eschewing marriage.
Solange Knowles
Knowles might be Beyoncé's sister, but she's a singer in her own right, known for her crooning, indie sound. She's also an entrepreneur with her own record label and has been recognized as a style influencer. In August, Knowles partnered with Puma for Word to the Woman, a campaign featuring 14 powerful women of different ethnicities and professions.
She's also one known to speak up for those she loves. When an Instagram user called her son ugly, Knowles offered a calm rebuttal that she hoped served as a lesson to the nasty commentator. After all, Beyoncé's "Flawless" references her too-cool sister in the lyric, "My sister taught me I should speak my mind." Amen, sister.
Danai Gurira
The Walking Dead is one of the biggest TV franchises in years, thanks in part to the zombie gore. But it's also due to complex characters like Michonne, the badass, sword-wielding leader in the zombie apocalypse, played by Gurira. But when Gurira isn't slicing the head off of a walker, she's writing plays, like her new off-Broadway show Eclipsed, which stars Lupita Nyong'o. Oh, and we know she can kill it in a photo shoot, as she demonstrates in the latest issue of Elle.
The cast of Hamilton
The runaway hit that is Hamilton has reached a level of fandom that is rare for any piece of media, especially a Broadway musical. That's in part thanks to the seamless combination of hip-hop and showtunes, something that the show's creator creator and star, Lin-Manuel Miranda, grew up with himself. The musical, based on a biography of Alexander Hamilton, has generated plenty of press and sold-out shows, as has its winning cast. The casts of successful TV programs like Gossip Girl and Orange is the New Black have gotten their own glam covers — it only makes sense that a show like this gets one too.
Kristen Ritter
Ritter has said again and again that she never thought she'd act in a superhero role. "I never in a million years fancied myself playing a superhero," the actress told People. "I don't look like superheroes that we've all seen in that female form with the outfit and the boobs and the big hair — that's just not me." 
But it's that perspective that makes her so great as Jessica Jones in the Netflix original series, in which she plays a different kind of superhero: one that is dark and complex, with her own host of problems — exactly the kind of woman that Ritter wanted to play, she told Rolling Stone. Her performance has already earned her a nod from the 2016 Critics' Choice Awards, and we bet more are coming.
Uzo Aduba
Orange is the New Black is chock-full of memorable characters, but perhaps none as much as Uzo Aduba's Crazy Eyes/Suzanne, with her tumultuous and unpredictable behavior. Aduba's portrayal has earned her two consecutive Emmy awards, a level of recognition that Aduba said was unthinkable just a few years ago when was considering quitting acting and pursuing a legal career.
Aduba's not just an actress — her musical talent and singing voice earned her the role of the "Glinda the Good Witch," in NBC's The Wiz Live! She reportedly was chosen over Beyoncé for the role (!).
Kate McKinnon
Many of pop culture's leading comedians got their start on Saturday Night Live, but Kate McKinnon's star shone especially bright this year, with portrayals of politicians like Hillary Clinton and Angela Merkel that are equal parts funny and insightful. Her ability to regularly portray up to seven characters in a single night are what earned her an Emmy nomination. "I think it's fucked up," she quipped to E! News of the nomination. "I think there's been an error." We only expect more nominations in the future.
Rowan Blanchard
Blanchard joins Zendaya and Stenberg on the list of vocal young actresses who take strong stances on social issues. The star of Girls Meets World has addressed her fans on Tumblr to explain, among other things, how white and black women experience sexism and feminism differently, and has sounded off on why it's wrong to tell women to smile. Most recently, Blanchard called out the problem with celebrity #squadgoals  that often are more exclusive than inclusive. Blanchard's only 14, but she keeps showing she's wise beyond her years.
Read all of Mic's year-in-review coverage here.