How to Stream Your Verizon Fios DVR Shows on Your Smartphone Using the Mobile App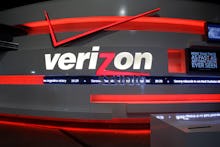 Verizon just gave ye olde Digital Video Recorders a relevant upgrade. As of Monday, Verizon Fios subscribers can now use the service's mobile app to stream DVR content on any mobile device with internet connection. 
"The latest innovations of the Fios Mobile app are how today's consumers want to watch TV and view content," Susan Retta, vice president of Verizon's consumer marketing, wrote in a statement. The new feature, available for those with Fios Quantum TV service and Fios Internet, TechCrunch reported, allows users to watch shows recorded on their home DVR system anywhere with internet connection on both Google and Apple tablets and smartphones.
The app is available to download and use for free with a Fios subscription from Google Play and Apple's App Store, and subscribers should be able to watch recorded shows instantly after downloading it. "These new features allow our customers to take their home Fios TV experience with them and to enjoy it whenever and wherever they go," Retta wrote in the statement.
Verizon isn't the first cable service to introduce on-the-go streaming. Comcast started letting some of its customers stream DVR recordings more than a year ago, the Verge reported, and Time Warner Cable launched out-of-home streaming in 2013, Engadget reported.