Rihanna Hasn't Finished 'Anti,' But We Know She's Working With Sia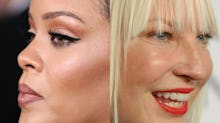 What does any pop star do when they're hoping to unleash one of the biggest records of the year? They recruit the talent of Sia, the mastermind behind several of the most iconic top 40 hits to date, from Britney Spears' "Perfume" to Beyoncé's "Pretty Hurts." Sia revealed on BBC Radio 2 over the weekend the Barbadian artist collected four of 25 songs she listened to in a private meeting with Sia, and her forthcoming album Anti is still in the works. 
"The other night she came over and listened to half of 25 songs I played her because she's still looking for songs for her new album," Sia told radio host Jo Whiley, according to Vulture. "She was there to listen to songs and see if there was anything that she was into. It was a business meeting, for sure. She took four [songs], but I don't know if they'll end up [on the album]."
Sia previously wrote Rihanna's "Diamonds," awarded Billboard's R&B song of the year in 2013.
Music fans have been awaiting Rihanna's surprise drop, hoping to be the first to hear what is sure to be a major release. An entire marketing campaign called "ANTIdiaRY," sponsored by Samsung, is putting the singer's most loyal fans through unique experiences as they join a global online hunt for a chance to hear the new music. The campaign's website syncs up with a fan's smartphone to provide an interactive walk-through, revealing important clues along the way. 
The Anti World tour kicks off Feb. 26 in San Diego, California, as Mic previously reported. Though it remains unclear whether any of her recent releases are from Anti, from "Bitch Better Have My Money," to "FourFiveSeconds," Rihanna has certainly continued to get more creative with each project, co-directing her music video for "BBHMM" and collaborating with both Kanye West and Paul McCartney on the second. 
Will Rihanna's next album show an even edgier Riri than fans are used to? Will her artistic pedigree shine through in club anthems and emotional power-ballads? It seems the people behind the "ANTIdiaRy" campaign or bad girl's Roc Nation record label aren't ready to answer those questions just yet. 
Anyone interested in a journey, however, may be able to find the key to unlocking Rihanna's Anti.