Major Lazer New Album: Collaborators, Potential Release Date and More for Next Record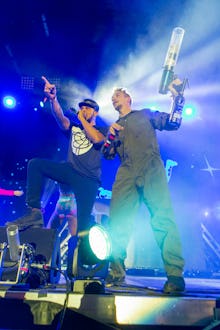 Electronic music crew Major Lazer may soon release another new album, a follow-up to their third album, Peace Is the Mission, which came out in June. The group, which is composed of Diplo, Jillionaire and Walshy Fire, promised back in May that they would drop a second new album in 2015, to be titled Music is the Weapon.
"For sure, we're gonna release another album," Walshy Fire told Inthemix.com in May. "It's gonna come out later this year or early next year for sure." 
So far there are few details about the upcoming release of Music is the Weapon, but Diplo hinted at some big-name collaborations in a September interview with Billboard, including The Weeknd, Sia and Travis Scott. "I think people are expecting some big records again, so we're back in the studio," Diplo told Billboard.
There's no official release date set yet for Music is the Weapon, but the Major Lazer is currently in the midst of an international tour that will last through the end of January. The trio will kick off a tour of the festival circuit starting in June.