Obama Says US Strategy Against ISIS Is Working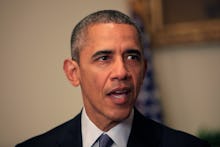 Speaking on the fight against the Islamic State group for the second time in as many weeks, President Barack Obama on Monday touted progress in combatting the group, also known as ISIS or ISIL.
"Coalition aircraft — our fighters, bombers and drones — have been increasing the pace of airstrikes," Obama said, speaking from the Department of Defense headquarters near Washington, D.C. He added that last month, the international coalition fighting ISIS "dropped more bombs on ISIL targets than in any other month since this campaign started."
Partnering with the governments of Bahrain, Jordan, Qatar, Saudi Arabia and the United Arab Emirates, the U.S. began striking ISIS targets in Syria in September 2014. But recent terror attacks in Paris, France, and San Bernardino, California — the former coordinated by ISIS, the latter inspired by it — sparked charges that the Obama administration was not acting forcefully enough to counter the ISIS threat. 
The president has moved aggressively to counter that perception, most notably with a rare Oval Office address last week in which he laid out a four-pronged strategy against ISIS, focused on hunting down its militants, training anti-ISIS forces in Iraq and Syria, disrupting ISIS's operational infrastructure and working to end the Syrian Civil War, which has fueled militant radicalism.
On Monday, Obama re-emphasized his commitment to that strategy. 
"As we squeeze its heart we'll make it harder for ISIL to sell its propaganda to the world," he reassured a country increasingly fearful of the threat of terrorism. As the Washington Post noted Monday, American fear of terrorism is at its highest point in a decade.
That sentiment has reshaped the national political conversation, fueling a contentious debate over how best to fight ISIS in its strongholds and sparking an inflammatory proposal from Republican presidential frontrunner Donald Trump to ban Muslims entering the United States.
Though he announced no new policy shifts on Monday, Obama did confirm that Mohammed Emwazi, an ISIS militant also known as "Jihadi John," who was believed to have appeared in videos showing the beheadings of Western hostages, had been killed by coalition forces. Last month, the Defense Department said it was "reasonably certain" Emwazi had been killed in an airstrike. 
Watch Obama's statement below: