Is One Direction Breaking Up? Watch Their "Final" Performance on 'X Factor'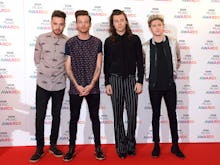 Hugely popular British-Irish boy band One Direction is hitting pause on the band as its members focus on solo efforts for the next 18 months. And on Sunday, the boys of 1D commemorated their decision with a farewell show in London on The X Factor, a British singing contest TV show. 
During Sunday's performance, the foursome lacked Zayn Malik, a former member of the band who exited in March. The group's fifth and most recent studio album, Made in the A.M. was released on Nov. 13, and the band performed some of the records cuts for fans on The X Factor. On stage, One Direction stars Niall Horan,  Liam Payne, Harry Styles and Louis Tomlinson, embraced, sending fans into an emotional whirlpool as the hashtag #ThisIsNotTheEndOfOneDirection began trending around the world, according to CNN. 
Here's footage of the group's final performance for some time:
Though 1D fans posting to social media were largely despondent in the hours following Sunday's performance, many were hopeful and clung to the band members' promise to return.
In March, the powerhouse pop group announced plans to temporarily part ways. At the time, fans went a little nuts producing memes for the emotional responses that the announcement sparked. To offer fans some consolation, the group address their adoring public with a video posted to the band's Facebook page on Sunday. 
Made in the A.M. Track list:
1. "Hey Angel"
2." Drag Me Down"
3. "Perfect"
4. "Infinity"
5. "End of the Day"
6. "If I Could Fly"
7. "Long Way Down"
8. "Never Enough"
9. "Olivia"
10. "What a Feeling"
11. "Love You Goodbye"
12. "I Want to Write You a Song"
13. "History"
14. "Temporary Fix"
15. "Walking in the Wind"
16. "Wolves"
17. "A.M."