'The Voice' Season 9 Finale: How to Watch, Celebrity Guests and Finalists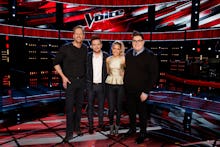 The four remaining contestants on The Voice, NBC's reality TV singing competition, will face off Monday for night one of the show's season finale. The finalists are set to perform duets with their coaches and musical guests including Usher, E! reported, and the showdown can be streamed live on the network's site. This season's winner will be revealed on Tuesday. 
How to watch: Finalists Jeffrey Austin, Jordan Smith, Emily Ann Roberts and Barrett Baber will all perform alongside their respective coaches and guests that are slated to appear on Monday's episode kicking off at 8 p.m. Eastern on NBC's cable channel and website. 
How to vote: Viewers can vote for their favorite performances following Monday's episode on the show's free app, online or through iTunes. A detailed description of how to vote can be found here.
Celebrity guests: E! exclusively reported what big-name artists will perform alongside the contestants for their final performances on Monday. 
Roberts will perform "Country Boy" with Ricky Skaggs, Baber will perform "No One Else on Earth" with Wynonna Judd, Austin will sing "Hollow" with Tori Kelly and Smith will sing "Without You" with Usher. 
There's no clear favorite after more than half of the show's contestants were eliminated during the last round, but back in November, Baber told E! that Smith is "the best singer on the show and it would be a lie not to say that." Smith earned widespread praise for his rendition of Queen's "Somebody to Love" on last week's episode. 
Austin's powerhouse performance of Ed Sheeran's "Make it Rain" saved him from elimination last week.
A video montage honoring each of the finalists' journeys on the show is available on the website. Watch Roberts' below: