NASA Is Looking For Astronauts to Go to Mars — Here's How to Apply Online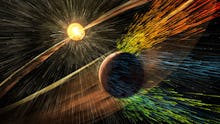 For everyone whoever answered "Astronaut!" to the "What Are You Going to Be When You Grow Up?" question, now is the time to make that dream come true: NASA is "looking for the best candidates to work in the best job on or off the planet," according to a Dec. 14 job post. Until Feb. 18, 2016 all qualifying U.S. citizens may apply to join the National Aeronautics and Space Administration's next class of astronauts on a red planet adventure. 
"NASA is on an ambitious journey to Mars and we're looking for talented men and women from diverse backgrounds and every walk of life to help get us there," said Charles Bolden, NASA Administrator and real, live (former) astronaut, according to the job listing. "Today, we opened the application process for our next class of astronauts, extraordinary Americans who will take the next giant leap in exploration."
The mission: According to Bolden, "this group will launch to space from U.S. soil on American-made spacecraft and blaze the trail on our journey to the Red Planet," specifically, on board Orion and two commercial crew space vehicles. 
"NASA astronauts will again launch to the International Space Station from Florida's Space Coast on American-made commercial spacecraft — Boeing's CST-100 Starliner and the SpaceX Crew Dragon. These spacecraft will allow NASA to add a seventh crew member to each station mission, effectively doubling the amount of time astronauts will be able to devote to research in space, expanding scientific knowledge and demonstrating new technologies," Bolden said in the listing.
The Boeing and SpaceX will be ready for liftoff from Florida's Cape Canaveral beginning in 2017, NBC reports.
What it takes to be an astronaut and how to apply: It's not that hard! Or, the job post makes it sound like not the most outlandish job to land, citing LinkedIn data that puts the number of academically qualified candidates currently operating in the U.S. job market at approximately 3 million. The listing specifically names "engineers, scientists and physicians" among occupations attractive to NASA hiring managers. 
The basic criteria are: "A bachelor's degree from an accredited institution in engineering, biological science, physical science, computer science or mathematics." In NASA's perfect world, that degree will be advanced. "Candidates also must have at least three years of related, progressively responsible professional experience, or at least 1,000 hours of pilot-in-command time in jet aircraft," the post stipulates. 
Another hurdle? The long-duration physical, which — per this NASA-issued explanation — includes a vision test and checks that candidates "meet the anthropometric requirements for both the specific vehicle and the extravehicular activity mobility unit (space suit)." This is necessary because "all crew members will be expected to fly aboard a specific spacecraft vehicle and perform Extravehicular Activities (space walks)."
According to NBC, it helps to be under 34 years of age, although there's no strict cutoff. NASA hopes its next batch of space explorers will be drawn from "a diverse pool of U.S. citizens with a wide variety of backgrounds."
Applicants can apply directly here.
How much does it pay? "Pay starts at $66,000 per year and can go as high as $144,566 with experience," reports NBC, although it's tough to put a number on the chance to be a part of the "unprecedented missions in lunar orbit" and the prospect of being among the first to step on Martian soil. This is a very exciting time to go to Mars.
Any questions? Ask Anne Roemer (astronaut selection manager) and Shannon Walker (real astronaut!) live on Reddit, beginning at 4 p.m. EST.
How NASA came to be: NASA — which the job post casually brags has been ranked the best branch of the U.S. government to work for — was established by President Eisenhower in 1958, as a step toward winning the space race with the Soviet Union. Its goal, according to the website, is to "reach for new heights and reveal the unknown for the benefit of humankind," which often involves voyages into the final frontier (space). NASA is primarily focused on its "Next Giant Leap," which involves sending humans to Mars and deeper into space than ever before. To this end, the Administration is hard at work on the Orion spacecraft, which will jet four of this job contest's lucky winners farther into the solar system than humankind has yet gone.