'Star Wars' Toys For Sale: Here Are the Rare Collectibles That Sold for Over $500,000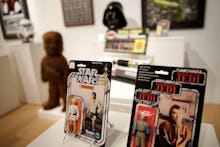 Anyone who has some old Star Wars toys lying around in their attic just might want to dig them out after hearing this story: A collection of hundreds of pieces of Star Wars merchandise, including toys, posters, coins and one vintage lunch box, fetched more than $500,000 at a Sotheby's auction this weekend.
All of the items were from Japanese designer and musician Nigo's "private collection," Sotheby's announced online. The auction house named the collection "Return of the Nigo."
The collection included some exceptionally rare items, like a box of seven mini action figures from 1980 that sold for $32,500 and a 1989 Hungarian edition of a Boba Fett action figure that went for $15,000. 
A 1978 Luke Skywalker figurine with a "rare two-piece double-telescoping lightsaber," of which there are only "20 confirmed examples," sold for $25,000.
Not every old Star Wars action figure or Darth Vader mask is worth thousands, but if you've got a toy that is still in the original box it came in in the '80s, it just might be worth getting it appraised. The whole collection from the Nigo auction is viewable on the Sotheby's website.
Correction: Dec. 14, 2015